One of the obvious things with AI is that once AGI is accomplished.... it'll stay there for maybe a month, before continuing onward. Which by definition is "super intelligence", an agent more intellectually powerful than any specific individual that's ever lived. And it'd continue going up from there before eventually hitting a ceiling, somewhere. Somewhere quite above what the three pounds of meat we have can do.
Once again, serious mainstream people in the field think that point might be reached in five to ten years. They wouldn't bet on it with a gun to their heads, but they wouldn't be overly surprised if it happened. Which would have been unthinkable just years ago. Even fringe kooky pants-on-head optimist Ray Kurzweil guessed it'd be 2045.
Anyway, today's post to scoff at humans: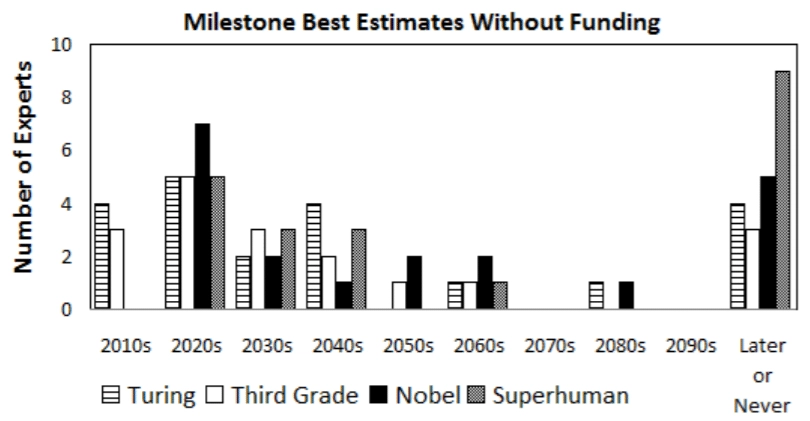 I just think it's funny there were people who said "yeah, it could be as smart as a third grader or Einstein, but it won't ever be smarter than humans."
Here's a survey from last year.
What's interesting is how much cultural pressure has an influence on these responses. Say a date that's wrong by being too late, well, who could blame you. But say a date that's wrong by being too early, well, aren't you a crazy little squirrel. Former hype/bust cycles, former AI winters, have made it taboo to expect too much from machines.
So historically you would ask western researchers "when" and they'd say 50 or 60 years. And Japanese experts would offer an average of around 30 years instead.
But all this nerd stuff is boring as hell to some of you. So here's a picture of a robot wearing clothes:
The latest model a company called 1x is putting together, OpenAI (and therefore by extension, Microsoft) invested millions into this company.
They named themselves "1x" since robot videos in the past used to be so slow, that the videos used to show them off were always sped up. 1x means to make things that operate in normal human timescales.
It's previous prototype was this horrible chimera with clamp claws. A man attached to a segway, the most nightmarish of all possible abominations. I also particularly dislike this fetish with giving these things "faces" of any kind. If it must have "eyes" denoting where its attention is at, please give it a big dot or something.
I'm with this lady on this one.
Save the faces for when you can make them actually look and act
human
.
A while back I mentioned Google's trashcan with an arm that could sometimes go fetch you a Dr.Pepper from verbal command in ~4 minutes. This is the natural extension of that: Microsoft thinks there's a good chance of being able to sell a light multi-purpose laborer. Hell, they plan to start selling that Neo thing from that picture
this year
.
The segway centaur is doing its job as a mall cop already. I think they run around $120 to $150k? I guess you could see where the cutoff point for where replacing a person at a job is: once they're roughly as good, the break-even point is if they can last ~five years without major maintenance.
The killbots would be hella interesting though. These early labor robots are intentionally made weaker and slower than humans for safety (and to a lesser extent, cost) reasons. The killbots... would have no such boring limitations! In fantasy, they would be like the titular OGRE, a work of art.
... in practice, they'll just be murder dogs, for the most part. A dog with a machine gun is much more practical. Opens doors, drives cars, runs faster than bipeds, more stable than bipeds, smaller target to hit than a human, can shooty-shooty. Everything you need as cheaply as you can get it...
Boring ass laws of physics >_>
Oh yeah, and no robots.txt is complete without linking
the darpa challenge highlight reel.
State of the art autonomous robots seven years ago.
Seven
.
It's really hard to watch knowing the teams at the time knew they needed a tether. Seeing all that hard work get busted up by a fall, it's so much worse than it looks!
And it's pretty amazing to think this Neo android might actually be able to pass that Darpa challenge: drive to the door. Walk to the door. Open the door. Walk past some rubble. Grab the knob, turn the knob, get out. It's a tedious, slow, and error prone thing for even a puppet being remotely piloted by a human to do.