MISSION 3-1: HARVESTER OF SORROW
Just like DD1, the third mission is divvied into two segments, a roughly 75/25 split. They are collectively far longer and deadlier than Missions 1 and 2! Sans one mechanised setpiece, the first segment's terrain is basic, lacking the rises and pitfalls of Mission 2. Attrition looms large, as ever.
Enemy HP has risen moderately across the board. Knives will now leave Williams/Roper at death's door, rather than killing them outright; O'Hara and Bolo can survive an extra sidekick/Tatsu combo apiece. It's not a dramatic boost, but you'll want to be aware, and press your attack rather than allow survivors to escape. Our replay has recovered a chunk of the HP lost in the
Great Abore Clusterfuck Of 1988,
but there's no room for complacency in these early skirmishes.
O'hara and his infinitely-respawning zako squad kick things off. He's a smart chap, never comes alone! There are no magic bullets here, unless you count the left screen edge glitch. Enemies knocked/thrown into it will tumble to their mysterious doom. Works in DD1, too! At the time of recording, I didn't know about it.
Not the worst thing, as the ensuing skirmish is decently illustrative.
> Note the use of vertical movement to force pursuers into circuitous, inefficient movement.
> NB also how punishable the Tatsumaki is by backstabbers!
> I should've really landed that fourth and final Tatsu on O'Hara, rather than allowing him to survive and circle around.
***WARNING: SCREEN EDGE RIDING AHEAD***
NB my sidekick spearing straight through Williams to knock down Linda - that'd be a double stun, if her cheap ass could be!
As seen above, next up are a Williams and Linda, both armed with knives. As with Mission 1's home stretch, bad camera tracking puts them too close for comfort, so be prepared. Take them out here, rather than pressing further into the stage, where they'll complicate matters. Happily, this is Linda's final appearance. Good riddance, Linda-chan! Look forward to DD Advance, where not only is gender parity finally achieved (stun/grapple ok!), but she ditched that hideous look!
Next in are a pair of Ropers, one carrying an uncharacteristic shovel. Bait and dodge as per usual.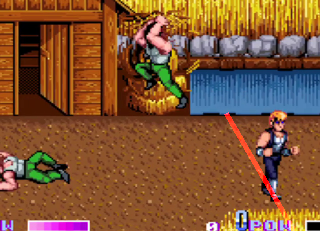 Williams/Ropers teams dominate the next stretch. Again, there's no magic bullet. You can use the logs to distract Williams - playing fetch can let you get some alone time with Williams - but otherwise, it's down to deft crowd management. The replay is a little nervous, but should give an idea of how to leverage Billy's speed and attacks to whittle down your enemies.
Note the avidly
Hokuto no Ken
-loving enemies erupting from haystacks when you cross certain thresholds. You wa shock? Not really tbh! I didn't care about them much, then or now, but it's good to know the battlefield! Pressing on, we've got a tricky setpiece.
MIDBOSS:
MAXIMUM OVERDRIVE feat. JEFF
See the combine harvester? See the headlights? When they glow, it's time to either stand aside or jump, preferably with an airtime-extending Tatsu - because the ground is about to become
a sea of body-shredding metal.
Take out Roper, while keeping clear of the dastardly metal murderer, and press on to meet erstwhile second boss Jeff.
Jeff's still a hard nut, though your new sidekick makes him drastically simpler to deal with than in DD1. His high HP will let him escape early grapples. As shown, I prefer to whittle him with sidekicks and followup enders, which keeps me free to hop the blades at short notice. Avoid moves that leave you tied up! No good hitting Jeff hard if it sees you shredded in return!
Jeff too needs to avoid the blades, and while his timing is as impeccable as one would expect of an NPC, stuns will indeed foil his escape. Note, however, that he'll typically remain crouched during wakeups until the blades are clear. Don't fixate on getting him hit by the harvester, just take what you get while sticking to the plan.
Remember! SEEN THE LIGHT? HOLY SHITE
NGL though, this feels great

Slowdown,
an infamous flaw of the first game, rears its ugly head here. There's no easy advice - you'll have to adjust your inputs on the fly, as the game speed ebbs and flows. In my experience, it at least won't drop your inputs, the way DD1 can.
***WARNING: SCREEN EDGE RIDING ENSUES NOW***
An on-axis punch? WTF
Immediately following this agrarian bloodbath is a shovel-wielding Williams. You can see in the replay how freaked out I am - I dive clear of the shovel, but botch my followup and take a beating. Shamefur! Do better.
Note that the harvester remains active
- don't retreat into its ravenous jaws!
DANGER:
BIG BRAWL AT THE COW FIELD
Post-mishap, you'll notice that rather than proceeding methodically, I'm now
hauling ass to the right,
accumulating quite the assortment of new friends.
This is to set up the run's single largest crowd, featuring Williams, Ropers, Jeffs, plus multiple grenades and knives.
As Ever:
the AI's tracking behaviour leaves it intensely vulnerable to knives and grenades, including ones on the ground, in the latter's case. Note how I cause the crowd to largely destroy itself by providing me with these lethal munitions!
NB:
Williams' aerial knife throw might
look
cool, but once dodged, the knife will stay on the ground ready to grab!
Ohooo!
Cowshed Carnage!
NOW THAT WAS A BANG.
Followed up by twice the stab for twice the spunk! It's much less hectic than it looks - pay attention to my use of vertical movement to string out the chase. Note also that, either on PCB or in quality emulations, you'll have an assist from moderate/heavy slowdown. Proceed to the elevator for a tricky boss battle.
MISSION 3-1 BOSS: BURNOV & BURNOV LLC
Mercifully, this is DD2's only mandatory multi-bosstype battle. As with Burnov's st1 and upcoming st4 appearances, limited space makes getting trapped and grappled a real danger. As with Abore, speed and judicious off-axis Elbows will see you through. Going for power attacks with both of these monsters onscreen is intensely dangerous.
Regular jumpkicks are about all I'm willing to risk here, these fat bastards are faster than they look.

The first to fall won't come back. The second will pull his resurrection trick, but at this point, you should have victory well in hand. Just like DD1, overcoming these big bastards will get you the mission clear jingle and a congratulatory message, but
not
a health restore. You will however get a timer refresh, handy with Mission 3's epic length. Up we go.
MISSION 3-2: HARVEST MOONED
Oh! Bolo! You
still
haven't learned to bring backup. But you have at
least
confronted us on somewhat perilous ground! With no room to dodge vertically on the walkway, and the wider cliffside cutting off horizontal retreat, what are we to do?!
Bye Bolo!
Now this is more concerning! A pair of Bolos isn't too much deadlier than one...
however.
Behind those impressive doors lurks
Chin,
and he will join the battle the instant one of his men dies. So you want to dispatch both Bolos as near-simultaneously as possible. While that handy cliff edge is still onscreen, I find luring the Bolos over too unreliable - and in any case, it's tougher to get the double-kill this way. The replay should illustrate the gist.
Efficient Mook Disposal

Note the vicious beating I catch, due to being slow on the final Tatsu takeoff. Shaky! While it takes a chunk of HP, I'm far less bothered about that than the possibility of facing Chin with backup.
MISSION 3-2 BOSS: CHIN
Chin is, like Abore, mortally dangerous if fought head-on. While his sweepkick doesn't inflict too much damage, the combo it leads into will obliterate your HP. He's also tough to stun, requiring a pair of sidekicks. While landing the first from off-axis is simple, his speedy recovery will typically see you swept out of the second and viciously battered.
The winning technique is easy to execute, but requires a bit of explanation, beyond the stock "off-axis sidekick into Tatsu." You'll notice that while I
do
indeed nail him with the classic setup kick, it's not actually stunning him long enough for the Tatsu to connect. He's too damn tough!
However,
it stops him just long enough for me to get
pointblank and on-axis.
This baits out his sweep... but I'm already in the air, and my shoe is impacting his head. Mastered Tatsu timing will be rewarded richly, here - hit him with the worst you've got. Repeatedly!
Shoulda STAYED

DOWN

FOOL

As with the preceding Bolo Bros, while it's certainly possible to knock Chin off the cliff, I find it more trouble than it's worth. YMMV. You will very shortly get another chance at defenestrating Chin, and an infinitely more practical one at that!
And with that, we've killed everyone present at Willy's murder of Marion, along with several dozen of their comrades! Time to beat off Willy for the
ULTIMATE REVENGE.