Yeah I'd second switching.
The order I played the game in was:
Yunica (hard mode) -> Toal (hard mode)
(1-2 years later)
Yunica (Nightmare Mode) -> Hugo (Nightmare Mode) -> Toal (Nightmare Mode)
Hugo is best for a more casual, lazy sort of playthrough wherein you already know the game pretty well and you're going for quickie EZ run for completionism. I did try to like him for both the FACT CLAN allusion and also for a more *~Magical Vacation Dracula~*-esque experience of OP wizardry, but his attacks are a little too awkward to use (between the lack of autofire and strafing) and lack the style and impact that'd characterize an Iga toybox.
This is totally off topic, but personally my favorite and most memorable execution of a "Wizard" type archetype in an action game is Thanos from Marvel Vs Capcom 2. A girthy but limited character without his precious super meter built (up to six stocks), but once he's charged up expect him
to casually chuck several celestial bodies at you
, cathartically burning through all that saved power with the savor of sweet tension release.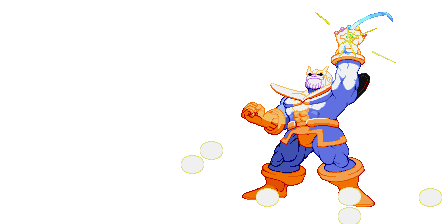 Vanguard wrote:
Toal has the worst story. He's a horrible protagonist. He acts like an edgelord, but it becomes very obvious after about 5 minutes that he's never going to actually do anything edgy, and that's insanely lame. Yet every character on both sides of the conflict insists that he's the coolest guy in the world.
I feel you. The big problem with Toal's story is that it starts out setting up a redemption arc, which would have been cool, but midway through it utterly chickens out with a "he was really good all along!" undercover agent twist.
I actually have to wonder if this was a last minute rewrite, because even replaying it with full knowledge, the reveal is really jarring. It borderlines on a Heavy Rain tier twist in terms of Toal outright or nearly lying to the audience through his own early narration, and it renders a lot of story elements like the Ys Knights mercy and compassion towards him ("I know there's still good in you!" type stuff) narratively pointless.
The only part of his story I kinda like is his interactions with the goddesses, but otherwise he's simply bland. Bland, inoffensive, and easily ignored, which is why I put him slightly above Hugo. Hugo starts amusing via his banter with Epona (which is more fun standing in contrast to Yunica's interactions with her), but his angst is dragged out far too long and ultimately grows outright irritating. He doesn't get any real character development away from it till the final dungeon, and by that time it's far too late to effectively demonstrate any real change of heart.
_________________


RegalSin wrote:

Japan an almost perfect society always threatened by outsiders....................

Instead I am stuck in the America's where women rule with an iron crotch, and a man could get arrested for sitting behind a computer too long.


Aeon Zenith - My STG.