Welcome to the Salad Toss show! The carnival of carnage! Can we rescue the grassman from becoming green grue? Or will M.C. Tusk
slap you
? Find out, today!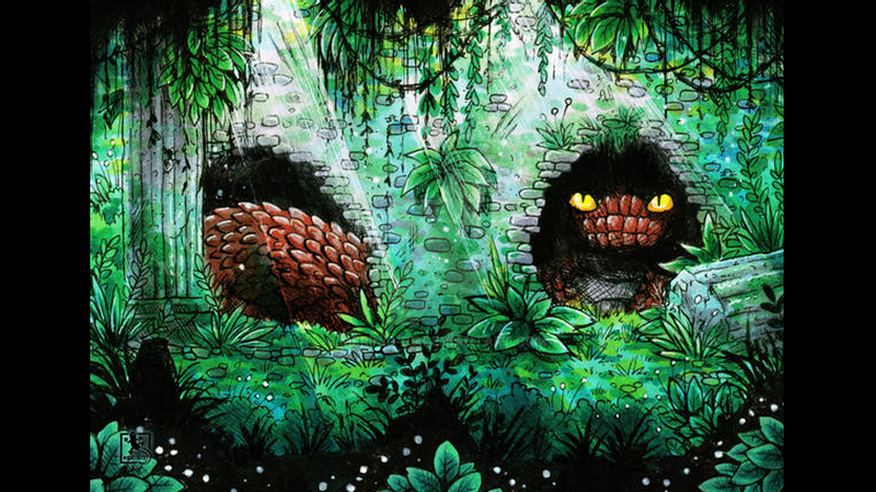 Part 15: Breath of Fire II Walkthrough—Hide-and-Seek (Uparupa & M.C. Tusk)
THUMBNAIL ART BY: Merinid-DE
MERINID-DE's ART GALLERY:
https://www.deviantart.com/merinid-de
Special thanks for giving me permission to use it!
"PLOT POINTS" THUS FAR (Beretta upgrades her wares for every 8 plot points you get, up to a max of 24):
1. Breaking Nympho's curse
2. Recruiting Seso.
3. Acquire the 2nd Tier dragons
4. Recruit 3 tenants and expanding Township.
5. Defeat Jailer.
6. Finishing the cooking contest in SimaFort.
7. Defeat Kuwadora.
8. Ranger's Guild cutscene
9. Defeat Munmar.
10. Defeat M.C.Tusk.
WARNING:
The Algerfruit from the merchant is the only one he has. Lose it, and you have to fight arguably the hardest boss in the entire game, before then going through the cave again. Resetting will definitely save you time.
UPARUPA ODDITY:
There are two holes that will allow you to get an extra item when you draw an Uparupa out of it. See the two red Xs' on this map:
https://gamefaqs.gamespot.com/snes/563530-breath-of-fire-ii/map/11101-uparupa-cave-map
ENEMY AI:C.Sludges/Goo Champions:
Run away with probability 3/8 (turn 1-4) or 100% (turn 5-7)
Otherwise, 1/64 defend, 63/64 attack
[The probability of running away is intended to be 1/16 (turn 1), 1/8 (turn 2), 1/4 (turn 3), or 3/8 (turn 4+). However, the turn number was capped in the wrong direction before looking this value up.
Additionally, Goo Champions are intended to have a 129/256 chance of casting Fire Breath on turns where it doesn't run away or defend. However, the upper byte of the Y register is cleared before this probability and spell list can be read]
Ganets/Ganymedes:
1/64 defend
Otherwise, 129/256 cast spell, 127/256 attack
Spell list: Cure 2, Atk-Up, Def-Up, Hush
Beetles/Goldlice:
If used BuildUp last turn, attack
Otherwise, 3/4 BuildUp
Otherwise 1/64 defend, 63/64 attack
Dynafangs:
1/64 defend
Otherwise, Attack (25%) or cast Jolt (75%)
[Like many spellcaster enemies, DinaFung is intended to just attack when its AP is 12.5% or lower. However, this check is bugged, so this will never happen.]
Pimas/Ugly Ducklings:
50% to run, if any monster has escaped or died
Otherwise, 1/64 defend
Otherwise, Attack or cast Speed
Stone Golems:
50% to defend
Otherwise, Heal or Attack
Cockatrices (37.5% Counter-attacks):
1/64 defend
Otherwise, Attack (25%) or cast Hush/Silence (75%)
Arubans/Fallen Elves:
75% to Attack Twice
Otherwise, 1/64 defend
Otherwise, Attack once or cast Hush/Silence
Sirens:
1/64 defend
Otherwise, Attack (25%) or cast spell (75%)
Spell list: Dream Breath (25%), Cycone (75%)
Stinger (37.5% Counter-attacks):
1/64 defend, 63/64 Cure 1
Stinger has a 3/8 chance to counter the Attack command.
UPARUPA AI (100% Counter-attacks):
Do Nothing
M.C. TUSK/RINGMASTER AI:
Phase 1 (381+ HP): Attack (75%), Raaaaaage (25%, Deals 48 non-elemental Damage to All)
Phase 2 (380 HP or lower): Attack (50%), Raaaaaage (25%, Deals 48 non-elemental Damage to All), Rejuvinate (25%)
THE ROUTE:Overworld:
Sail down-right to Melodia!
Melodia (Defensive Formation):
—Run from Golems. Use Auto on single enemies, and Jolt + Flameblast on multiple enemies
Talk to Ringmaster
—TRADE: Speed Suit (Sten)
Save
Sail to Guntz in the lower-right
Guntz:
—SELL: Herbs, Antidotes, Panaceas, Guts Belt, Longsword, Silk Glove, Iron Plates, Headbands, Royal Crown, & Gold Armor
—BUY: Fire Spices till x4 slots left, then buy x4 Thunder Rods
Deposit all but 600z
Sail right to Township
Township:
Go inside base for restoration, then save
—COOK: x3 Stat Boosters + Conch = x2 Gold Bricks; x4 Thunder Rods = x1 Hardtack
Visit the 2nd room in the well
Uparupa Cave:
—Sirens: Scatter; Ryu chooses one while the others choose another
—X1 Stinger: Scatter; Ryu & Rand strike before Lin finishes
—X2-3 Stingers: Fire Spice/Fireblast with melees.
1st Room: Use a Smoke Bomb, go left to get a Quarterstaff for Lin, use a Smoke Bomb when all are out of the water, get a Coin.
2nd Room: Dip into lower passage for Ocean Robe
3rd Room: Use a Smoke Bomb, then buy Alger Fruit!
Go to the Uparupa hole that's just next to the leftmost one!
---------------------------------------------------------
VS. Uparupa (520 HP): Scatter
Turn 1: Auto Battle so it hurts everyone (death warp)
Turn 2: Electric Whelp while everyone attacks
---------------------------------------------------------
Snag the Buster Sword & Iron Shield!
—EQUIP: Buster Sword then get everyone's Defense to 69
Having low Defense is actually *helpful* if the difference is 99-137!
Death Warp
Melodia:
Re-equip everyone
Retrieve Zenny from the bank
—ORDER: Rand/Sten/Lin/Ryu
---------------------------------------------------------
VS. Ringmaster (1520 HP): Defensive
Turn 1: Rand (W. Seed → Ryu), Sten (Fireblast), Lin (Fire Spice), Ryu (Fire Whelp)
Turn 2: Rand (Fire Spice), Ryu (Fire Whelp)
Lin & Sten: One uses Wisdom Seed on Ryu, the other uses a Vitamin
Turn 3: Sten (Fireblast)
---------------------------------------------------------
—CHANGE PARTY: Ryu/Rand/Sten/Aspara
TRANSLATION MISHAPS:
Wrong title.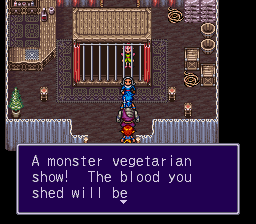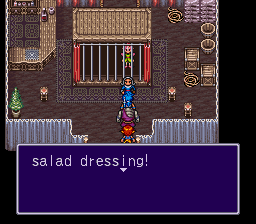 Actually a pretty good line... But it's incredible that "blood" made it in there.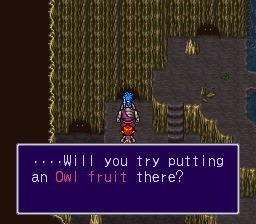 The old translation is always getting "Alger" and "Owl" mixed up.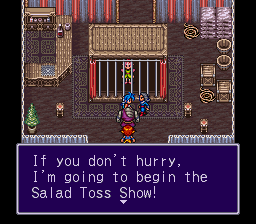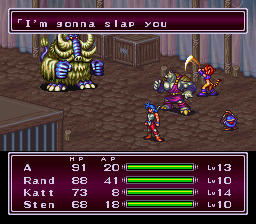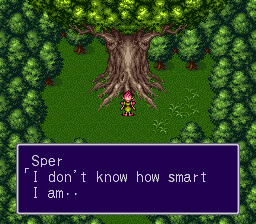 Amazing. Amazing prose, all-around. Also, that last textbox is from the demos. Those were cut from the Retranslation, though Ryusui still translated the lines.