Normal
Nur
Mero - 2,831,860,280 - All - PS4 -
image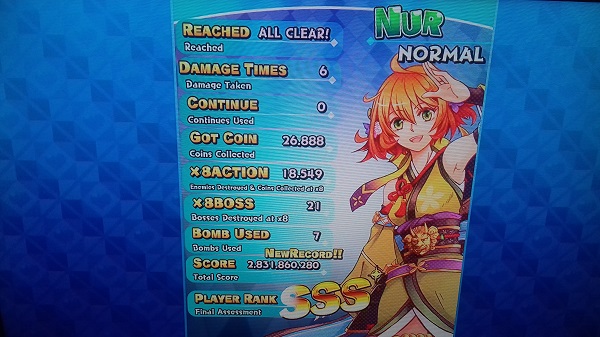 Normal
Sonay
Mero - 2,860,366,810 - All - PS4 -
image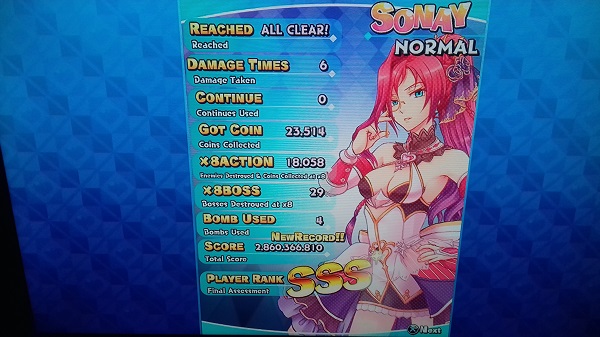 Before the Nur clear I spent some time in practice mode trying to work out how handle the TLB better, and it was that that got me over the line. I only still really need to use 1 bomb on Yashin phase 2 (I can dodge the first volley of it) and probably one on Seytan phase 3 if I get trapped. In this run I reached the TLB with 2 lives and one bomb and was still able to clear, so it's more achievable than I thought! I stand by the statement that Nur is the hardest to clear with, mainly because of Lale phase 3, that phase is hard anyway but even harder for Nur because most of her tension shots target the two crystals instead of Lale herself, and Nur's bomb hardly inflicts any damage.
I did the Sonay clear not long after Nur, using the same strats on the TLB, though Yashin phase 2 strat didn't work because of Sonay's slower speed. I'd say Sonay is the joint easiest to clear with, tied with Ece.
The Nur score is a bit disappointing because she's the best scorer in the game (at least on normal), I always seem to do badly in the last two stages with her.
Anyway that's all 5 Sisters cleared so I think I'm about done, alas no internet means I can't get the DLC character though if she plays like Fumiko from Shiki I wouldn't be very good with her anyway lol.