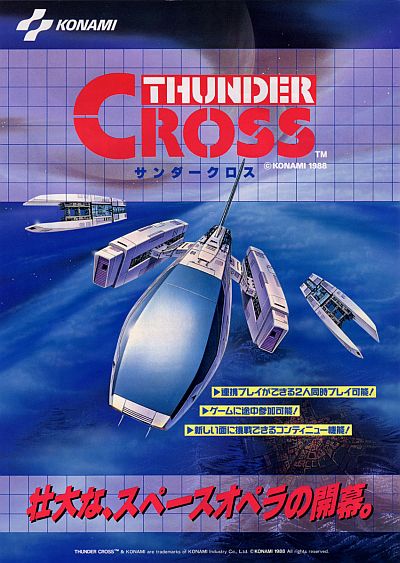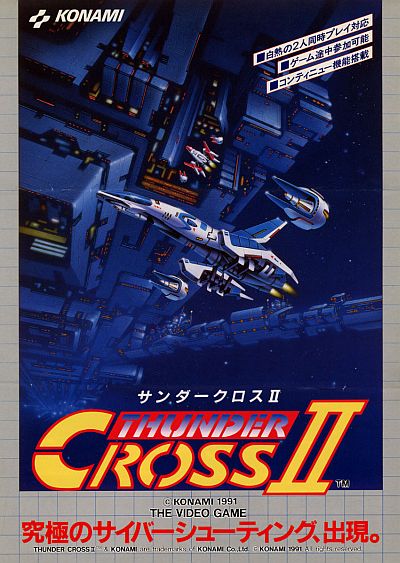 Almost forgot about this one! I'm once more sure CIT won't mind, the thread needed an update in any case, there are also some changes that should be applied/discussed. The old thread can be found
here
.
These two games are quite interesting regarding potential differences, I haven't quite figured everything out yet, maybe someone else can shed a bit of light on it, too.
We know for certain there are at least two versions of the first Thunder Cross out there. It is universally agreed that the original Japanese release is vastly superior to the butchered Western version. You can tell that you're playing the Western version if you start the game on the second stage instead of the first one (when you have skycrapers in the background instead of being in a cavern), have two options right off the bat and also bombs (called "Lil' Baby" for some reason or another). As far as MAME is concerned, this is called "set 2" in the builds I've tested ("thunderxa"), all the other sets (Japan, set 1, set 3) seem to be the Japanese version (usually with English font), the PS2 release also contains that version.
I'm currently unsure what the "New Version" of this game might be that is listed in our Hall of Records thread. Is this the same as the Western version or something else entirely? Another thing I want to mention is that at least for me (tried a few versions of MAME), Thunder Cross has a nasty tendency to freeze or produce problems with the textures, rendering it unplayable. I had more problems with "thunderxj" than with "thunderx", that might be coincidence, however. For now, I'm going to split between the Japanese version and the Western revision.
And that's it! The format should be:
Game - Version
Name - Score - Stage
Thunder Cross
Japan
Code:
Name Score Stage
1. Perikles 8,833,180 7-5
2. PlasmaBlooD 3,224,480 3-5
3. Ghegs 1,968,720 2-7
4. RFP 1,629,480 2-5
5. elbarto 1,561,560 2-4
6. emphatic 1,358,780 2-1
7. Nemo 1,211,240 2-3
8. God 1,206,720 2-3
9. CIT 928,460 1-7
10. Adam76 682,400 1-6

DEL - 10,000,000+α Note: unknown stage/loop, unknown version

West
Code:
Name Score Stage
1.
2.
3.

Thunder Cross II
Code:
Name Score Stage
1. Perikles 4,519,490 6-4
2. CIT 914,050 2-3
3. elbarto 843,320 2-2
4. PlasmaBlooD 553,010 1-6
5. maximo 313,450 1-5
6. SG 232,530 1-4

DEL - 12-ALL Note: unknown score, unknown version (?)