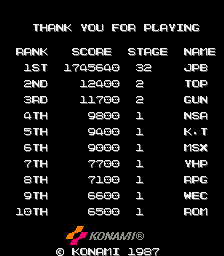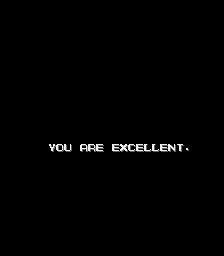 Perikles - 1,745,640 - ALL - Japan
Video
At last! By far the hardest clear I've gotten so far, even Tatsujin Ou or the Xexex 2-ALL were fairly mild compared to this. Even when I wanted some other clears, I've not played too much at any given day since I find that concentration and motivation starts to deteriorate if you force things too much - I culpably neglected this tenet here, I've spent the last afternoons with several attempts beating this hellspawn. Had a few runs where I managed to beat the entire first loop without dying, or where the first stretch of the second loop went really well, but I always fell apart somewhere. I thought I lost it with this run when I got murdered three times on the bosses in stage 29, yet somehow survived the next two stages without dying, allowing me to start the final boss fight with four lives total which is realistically the bare minimum to beat it (you need to die three times for a "manageable" rank; manageable in quotation marks, just look at the last pattern I've had to dodge!).
It's safe to say that I know no other shmup as well as I do Battlantis, as shameful as it is. The amount of time I've had to invest even for the smallest things is laughable, I could probably create an instructive ST had I the nerve to put in the time and effort. And while this run was barely victorious, this is probably as close as I ever got (get?) to a great clear. Due to how the game works, you just have to play extraordinarily well to stand a chance, the extends will only get you so far. I was actually thinking about how you could tweak several parameters to make the game so much more enjoyable:
- Allow more than two shots on-screen at a time. This restriction is particularly bad at the final boss in loop 2 since it's almost impossible to destroy the hatches while fending off their scions at high rank. You have to wait for too long before your shots hit the former, leaving you adrift against the swarms of enemies. And there are dozens of other instances where at least one more shot would be such a mercy, I really don't see a necessity to have such a constraint.
- Let those shots cover more than what feels like a millimeter. You have to do so many things simultaneously and with only two shots at your disposal, don't implement such a harsh penalty for missing by one or two pixels as well.
- Don't make power-ups random. For Christ's sake, what a dumb idea. Some stages have fixed drops (e.g. stage 6), most don't, however. There is quite a difference between getting a speed-up and complete invincibility, though, and it shouldn't come down to luck in such a precise game.
- Don't permit enemies to point-blank you. It's disgusting.
- In a similar manner: don't allow enemies to cut off your path to a climbing barbarian. This oftentimes happens when some rock detonates on the battlement, meaning that the hit is still active for a second or so before you can move past it. You're just standing there with no hopes of survival.
- There is a glitch at certain frames of the climbing animation of enemies where you shoot right through them. Fix that.
- Speaking of shooting right through stuff, the directly aimed boomerangs from the bosses in stages 10 and 21 are capable of sailing right through the crenels, as are some other boss projectiles. It depends on the angle and was obviously not intentional, someone just didn't notice or cared enough to amend that.
- It should be self-explanatory, but don't have unavoidable patterns in the game. The six ghosts in stage 19 do that from time to time, as does the final boss in loop 2, or the barbarian bosses in stage 31. You could always argue that you made some mistake several seconds ago where you should've dodged to the one side instead of the other, yet the fact of the matter is that you cannot know that beforehand since the patterns are random. It's insanely unfair.
- Also, some bosses are just way too close for comfort, especially the aforementioned boomerang guys. You sometimes have to guess where the boomerangs will fly to in advance because you cannot dodge on reaction. Since most of the attacks are just heading somewhere, you may well run right into something in the process. Just position the guys a tad bit further back.
- Some bosses have way too much resilience.
- If you don't want to address any of the above things, you could at least make the protagonist a bit faster as a redress. Or change the hit detection a little.
It's a miracle this game works at all. I don't have an inkling how long this game was in development, it feels like a bunch of people were crafting it for an considerable period of time to make absolutely sure that several sections may work out at all, but just barely.
Anyway, while I never want to touch this ever again, I'm immensely glad to have it in the bag. I'm usually not one to even mull about it, I nonetheless am quite sure that this is the first 2-ALL of this bastard in a long time, I doubt anyone outside of Japan bothered to even go this far (for good reasons).
To sum things up, a couple of my doodles and a spoof picture: