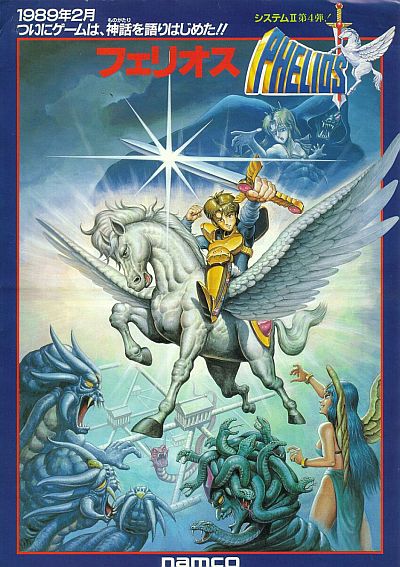 Since aru-san hasn't read the PM I've send him over three weeks ago and the thread wasn't updated in over a year I'll just take over for him. The old one be found
here
. And even though his layout of the score table looks neat I'm just going to utilize the old plain format that I always use since it's nice 'n easy to apply.
As a quick introduction, Phelios' difficulty settings behave somewhat differently than they do in a lot of other games. Difficulty of course affects the overall, well, difficulty of the game (enemy resilience and pugnacity), but it also has an influence on how long the game is. The arcade game's Easy setting will have you battle the first four stages, then you face the mage gauntlet that serves as the penultimate boss of the final stage in Hard, afterwards the game is over. Hard has seven full stages and a TLB if you will. The MD's Novice setting on the other hand just ends after stage 4, you won't get any ending whatsoever.
Please format your scores as follows:
Platform - Difficulty
Name - Score - Stage
Arcade - Easy
Code:
Name Score Stage
1. Gemant 814,310 ALL
2. Perikles 810,640 ALL
3. aru-san 81,770 2
4.
5.

Arcade - Hard
Code:
Name Score Stage
1. Perikles 712,100 ALL
2. maximo 228,930 4
3.
4.
5.

MD - Advanced
Code:
Name Score Stage
1. Perikles 3,927,740 ALL
2. andsuchisdeath 3,245,180 ALL
3. Fireshark 2,310,110 ALL
4. UGO 1,297,780 ALL
5. EmperorIng 1,263,630 ALL
6. CIT 1,136,170 ALL