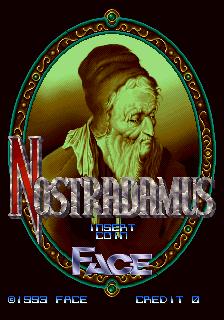 This game is good. That might come as a surprise, considering that it's from the same guys who made Sand Scorpion (maybe it's only the same guys who published it, but there are some similarities such as the alien ships rising from the ground (stage 1 in Sand Scorpion, stage 2 in Nostradamus), the slowdowns and some minor graphical resemblances). It deserves a score board, that's for sure.
I've mentioned it in the video description of my clear already, but I absolutely want to point out once more just how useful the invincibility frames upon picking up a wing power-up/crystal/question mark block are. It sometimes allows you to ignore enemies for several seconds, it's a bit silly.
I also investigated a little bit as far as the possible infinite milking on the final boss is concerned. The power-ups cease to appear on the first phase after a while, I can say that for certain. I'm not sure how it works on the second phase since the guy uses impossible patterns after a while which is somewhat counterproductive. I can see how one might be able to counterstop the game, and a bit of milking is needed for that, but it's not a broken game eo ipso as far as I can tell.
Please submit scores as such:
Name - Score - Stage - Autofire - Player Side - Version
Code:
Name Score Stage Autofire Player Side Version
1. Perikles 8,630,800 ALL Yes 2P Japanese
2. Mik 1,349,400 4 No 1P Korean (?)
3.
4.
5.