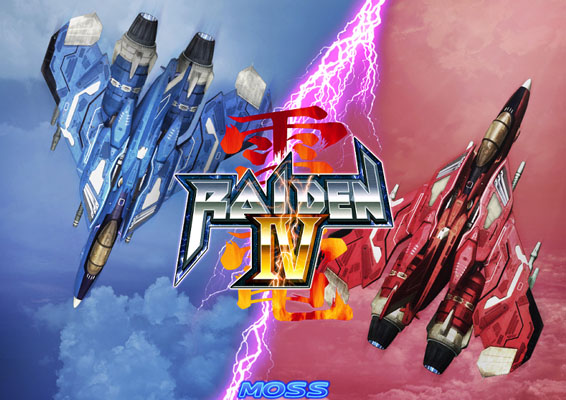 Previous thread:
1
__________
This thread will track the following modes and settings:
* Arcade Original, Xbox 360/Perfect/Additional, and OverKill
* Easy to Ultimate difficulties only
* All three ships, solo only
Boards will be added when a score for that category is submitted. Remember that "Original" is both the name of the submode you need to select in Arcade mode, as well as a difficulty setting for all modes.
3 lives and 3 bombs for all modes. I currently do not know how either arcade version's difficulty settings work, but I know that the Type X version defaults to the same difficulty that's called "Original" in the ports.
Don't use a 50Hz version
.
Be careful when using other ships, as there are no separate boards for them in-game.
----------
Post scores in this format:
Code:
MODE - DIFFICULTY - SHIP
NAME - SCORE - LEVEL - PURPLE WEAPON - PLAYER SIDE - DETAILS
DETAILS is for what model of console and release of cart/disc, or what emulator and version. There are way too many versions of this game.
__________
Arcade Original
Normal difficulty
Fighting Thunder
Code:
1. BOS - 59.041.760 - ALL - ?????? - 1P - US 360
2. Heavy Viper - 24,042,750 - 1-5 - ?????? - 2P - PS3
Raiden
Code:
1. Kidpanda - 20,320,150 - 1-5 - ?????? - 1P - PC (Steam v1.01)
Original difficulty
Fighting Thunder
Code:
1. iconoclast - 66,516,840 - ALL - ?????? - 1P - PC (Steam)
2. Jaimers - 66,473,960 - ALL - ?????? - 1P - PC (Steam v1.01)
3. MauCast - 64,802,170 - ALL - ?????? - 1P - PC (Steam)
4. Erppo - 64,698,660 - ALL - ?????? - 1P - PC (Steam v1.00)
5. yumi matsuzawa - 64.655.160 - ALL - ?????? - 2P - US 360
6. DKA_Darius - 64,025,850 - ALL - ?????? - 1P - PC (Steam v1.00)
7. Aquas - 61,498,050 - ALL - ?????? - 2P - US 360
8. CIV - 49,543,420 - 2-5 - ?????? - 1P - Type X
9. BBH - 37,458,880 - 2-3 - ?????? - 2P - US 360
10. Wes112 - 34,314,310 - 2-3 - ?????? - 1P - US 360
11. malik11 - 31,303,640 - 2-2 - ?????? - 1P - US 360
12. Todaysforgotten - 31,253,530 - 2-2 - ?????? - 1P - US 360
13. antares - 29,256,390 - 2-2 - ?????? - 1P - JP 360
14. spadgy - 27,982,100 - 2-1 - ?????? - 2P - JP 360
15. Evilmaxwar - 27,240.660 - 2-1 - ?????? - 1P - US 360
16. Blinge - 25,304,470 - 2-1 - Plasma - 1P
17. Shalashaska - 23,358,830 - 1-5 - ?????? - 1P - US 360
18. Landshark - 23,073,100 - 1-5 - ?????? - 1P - US 360
19. M.Knight - 21,951,610 - 1-5 - ?????? - ?? - PC (Steam)
20. Mero - 20,621,380 - 1-5 - Plasma - 1P - JP 360
21. TVR - 18,825,230 - 1-4 - ?????? - 2P - JP 360
22. Acid King - 18,331,430 - 1-4 - ?????? - 1P - US 360
23. DC906270 - 16,929,080 - 1-4 - ?????? - 1P - US 360
24. Kidpanda - 16,818,210 - 1-4 - ?????? - 1P - Type X
25. Akraten - 14,851,190 - 1-4 - ?????? - 1P - US 360
26. Dave_K. - 12,204,220 - 1-3 - ?????? - 2P - Type X
27. CHI - 10,988,410 - 1-3 - ?????? - 1P - Type X (Asia?)
28. agustusx - 10,476,910 - 1-3 - ?????? - 1P - US 360
29. kemical - 8,323,940 - 1-3 - ?????? - 1P - JP 360
Xbox 360
(Perfect in the NESiCA version, Additional in OverKill)
Normal difficulty
Fighting Thunder
Code:
1. Aquas - 83,747,060 - ALL - ?????? - 2P - US 360
2. yumi matsuzawa - 68.233.510 - 2-5 - ?????? - 1P - US 360
3. SFKhoa - 52,780,760 - 2-4 - ?????? - 2P - JP 360
4. BBH - 36,877,080 - 1-7 - ?????? - 2P - US 360
5. malik11 - 35,793,490 - 1-7 - ?????? - 1P - US 360
6. antares - 30,057,860 - 1-6 - ?????? - 1P - JP 360
7. CRI - 27,095,730 - 1-6 - ?????? - 1P - JP 360
8. Wes112 - 26,624,590 - 1-6 - ?????? - 1P - US 360
9. spadgy - 26,228,450 - 1-5 - ?????? - 2P - JP 360
10. Edge - 18,654,350 - 1-4 - ?????? - 2P - US 360
11. araraspamwitch - 18,323,460 - 1-4 - ?????? - 1P - US 360
12. Guardians Knight - 17,553,860 - 1-4 - ?????? - 2P - JP 360
13. Evilmaxwar - 16,664.310 - 1-4 - ?????? - 1P - US 360
14. TVR - 15,280,700 - 1-4 - ?????? - 2P - JP 360
15. Ransom - 13,693,900 - 1-4 - ?????? - 1P - US 360
16. kemical - 13,197,950 - 1-4 - ?????? - 1P - JP 360
17. Skykid - 12,944,190 - 1-4 - ?????? - 1P - US 360
18. RupertH - 11,938,020 - 1-3 - ?????? - 1P - JP 360
19. squareking - 11,548,210 - 1-3 - ?????? - 2P - US 360
20. dunpeal2064 - 11,110,360 - 1-3 - ?????? - 1P - US 360
21. msm - 11,078,260 - 1-3 - ?????? - 1P - JP 360
22. Dragoforce - 10,892,090 - 1-3 - ?????? - 1P - US 360
Raiden
Code:
1. SFKhoa - 27,345,650 - 1-6 - ?????? - 2P - JP 360
Fairy
Code:
1. Shuurin - 12,484,510 - 1-4 - ------ - ?? - US 360
2. agustusx - 7,566,010 - 1-3 - ------ - ?? - US 360
Original difficulty
Fighting Thunder
Code:
1. Aquas - 35,514,640 - 1-7 - ?????? - 1P - US 360
2. malik11 - 28,124,930 - 1-6 - ?????? - 1P - US 360
OverKill
Normal difficulty
Fighting Thunder
Code:
1. MauCast - 44,891,240 - 2-3 - Plasma - 1P - PC (Steam)
2. yumi matsuzawa - 44.481.000 - 2-M1 - ?????? - 1P - PS3
3. Maurener - 35,526,470 - 2-2 - Plasma - 1P - PC (Steam)