Arcade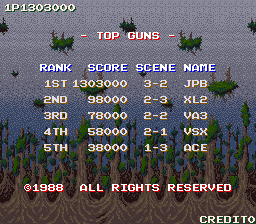 Perikles - 1,303,000 - 2-3 - Yes - Japan, Newer
Video
I've no idea how the Japanese version differs from the World version or whether it is important if you play the old version or the newer one, but I know that it is important in Dragon Spirit, for example, so it might be a good idea to add that information.
Anyway, I felt like handling some more heavy machinery after BlaZeon and played this. What a weird, messy game. I do partially concur with the Euroshmup remark, EmperorIng, except that the hitbox is also remarkably small which is not an usual trait of Euroshmups, making this classification at least somewhat debatable. Some very specific sections are much more strict (the mechanical parts in front and on the back of the gates in the fourth stage, for example) for completely inexplicable reasons. The arcade version also has one section that is entirely up to luck, I'm absolutely sure the ball maze is completely random and sometimes unavoidable. This and all the other sloppy choices prevent me from actually spending more time on it even though it shouldn't be too problematic to loop this game a few times (the aforementioned maze notwithstanding, it'll probably end more runs than not). I did the wrong thing in the beginning of 2-2 and then got shafted by one pesky enemy that didn't leave me any time for reaction, and long-term recovery is simply impossible. Gradius games are generous by comparisons, especially since they felt the need to take away some of the power-ups in the second loop, meaning that you can play half a stage without ever seeing one.
I know the location of five extends, got two of them in this run (one at the first stage (shoot at the eye level of the face in the wall), one in the third stage (right after the Battletoad sequence with the mechanical snakes you want to go down and hit the floor behind this retracting organic thing)), here are the other ones:
- If you stall the second boss long enough a power-up carrier with an extend will appear.
- Instead of milking the lower organic wall in the fourth stage you can go all the way up and shoot the ceiling for an extend.
- In the lower right corner during the ball maze episode in stage 5 there is another one.
Totally not worth it to go after them, though.