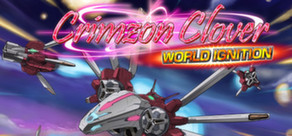 This is the second half of the Crimzon Clover thread. For the first half, see
here
.
__________
Please note which version of the game you used.
For WI, replays are required for first place scores, and are always recommended in general.
To unlock Type-Z, collect 3,000,000 stars across all games; you can see your current total on the Record screen. Hold Bomb when selecting Type-Z for an alternate version called Type-Z'; this doesn't change its gameplay.
----------
Post in this format:
Code:
MODE - SHIP
NAME - SCORE - ARRIVE POINT - BOOST COUNT or BREAK RATE MAX - VERSION
There have been many updates to both the arcade version and to WI; note which program version you've used.
__________
NOVICE
BOOST
TYPE-I
Code:
1. KOA - 4,045,896,430 - ALL CLEAR!! - 41:41:55 - World Ignition
2. -S.L- - 3,707,418,480 - ALL CLEAR!! - 35:30:00 - World Ignition [v1.02]
3. Neptas - 3,603,557,190 - ALL CLEAR!! - 38:32:21 - World Ignition [v1.02]
4. DocHauser - 3,096,424,460 - ALL CLEAR!! - 35:29:85 - World Ignition [v1.01]
5. Prinny - 3,087,155,560 - ALL CLEAR!! - 32:37:28 - World Ignition [v1.02]
6. EspRaDe - 2,394,787,950 - ALL CLEAR!! - 29:45:00 - World Ignition [v1.02]
TYPE-II
Code:
1. DocHauser - 3,185,083,690 - ALL CLEAR!! - 34:51:55 - World Ignition [v1.01]
2. KOA - 3,178,059,590 - ALL CLEAR!! - 35:34:48 - World Ignition
3. shmuppyLove - 1,980,548,410 - EX BOSS2 - 28:40:00 - World Ignition
TYPE-III
Code:
1. -S.L- - 3,394,497,350 - ALL CLEAR!! - 36:50:03 - World Ignition [v1.02]
2. Zaarock - 2,992,484,600 - ALL CLEAR!! - 36:07:03 - World Ignition [v1.01]
3. DocHauser - 2,976,295,820 - ALL CLEAR!! - 35:56:11 - World Ignition [v1.01]
4. BareKnuckleRoo - 2,943,514,020 - ALL CLEAR!! - 35:15:00 - World Ignition [v1.03] (GOG)
5. endoKarb - 2,357,810,300 - ALL CLEAR!! - 28:45:00 - World Ignition
6. Mr12Inches - 2,250,544,680 - ALL CLEAR!! - 25:15:00 - World Ignition [v1.04]
TYPE-Z
Code:
1. -S.L- - 3,821,337,390 - ALL CLEAR!! - 40:34:86 - World Ignition [v1.02]
2. Neptas - 3,437,442,200 - ALL CLEAR!! - 38:22:75 - World Ignition [v1.02]
3. Radyum - 3.407.774.910 - ALL CLEAR!! - 37:20:90 - World Ignition [v1.05]
4. nZero - 3,356,727,510 - ALL CLEAR!! - 38:15:00 - World Ignition
5. DocHauser - 3,293,147,660 - ALL CLEAR!! - 38:35:93 - World Ignition [v1.01]
6. Despatche - 2,337,083,240 - ALL CLEAR!! - 27:45:00 - World Ignition [v1.05] (Steam)
NOVICE
ORIGINAL
TYPE-I
Code:
1. Jaimers - 2,153,067,310,630 - ALL CLEAR!! - x29894 - World Ignition [v1.04]
2. -S.L- - 2,124,025,191,650 - ALL CLEAR!! - x24782 - World Ignition [v1.03]
3. Prinny - 1,933,106,071,360 - ALL CLEAR!! - x28394 - World Ignition [v1.02]
4. Blackbird - 1,874,096,117,150 - ALL CLEAR!! - x23212 - World Ignition [v1.04]
5. Mr12Inches - 1,709,946,947,200 - ALL CLEAR!! - x25436 - World Ignition [v1.05]
6. Neptas - 1,528,617,338,670 - ALL CLEAR!! - x20393 - World Ignition [v1.01]
7. Radyum - 1.490.708.665.150 - ALL CLEAR!! - x21726 - World Ignition [v1.05]
8. DocHauser - 1,131,583,650,640 - ALL CLEAR!! - x21666 - World Ignition [v1.01]
9. neobanshee - 599,105,557,400 - ALL CLEAR!! - x15452 - World Ignition [v1.02]
10. BURLY - 471,310,663,360 - ALL CLEAR!! - x11748 - World Ignition [v1.06] (GOG)
11. ReSe2k - 407,446,989,020 - ALL CLEAR!! - x13094 - World Ignition [v1.05]
12. Wyrmnus - 298,279,774,250 - EX BOSS - x????? - World Ignition
----------
TYPE-II
Code:
1. -S.L- - 2,008,188,161,110 - ALL CLEAR!! - x26404 - World Ignition [v1.03]
2. Blackbird - 1,039,404,660,650 - ALL CLEAR!! - x17252 - World Ignition [v1.01]
3. DocHauser - 918,516,765,710 - ALL CLEAR!! - x19944 - World Ignition [v1.01]
4. M.Knight - 611,622,250,220 - ALL CLEAR!! - x15976 - World Ignition
5. ReSe2k - 413,597,333,120 - ALL CLEAR!! - x13074 - World Ignition [v1.06]
TYPE-III
Code:
1. -S.L- - 1,638,876,395,650 - ALL CLEAR!! - x19664 - World Ignition [v1.03]
2. Prinny - 1,375,469,744,710 - ALL CLEAR!! - x23709 - World Ignition [v1.02]
3. Mr12Inches - 1,311,435,119,460 - ALL CLEAR!! - x23775 - World Ignition [v1.04]
4. kobepilgrim - 1,040,663,151,370 - ALL CLEAR!! - x14880 - World Ignition [v1.06]
5. DocHauser - 1,001,832,707,620 - ALL CLEAR!! - x20017 - World Ignition [v1.05]
TYPE-Z
Code:
1. -S.L- - 2,256,052,109,750 - ALL CLEAR!! - x23323 - World Ignition [v1.03]
2. DocHauser - 1,155,881,536,610 - ALL CLEAR!! - x17606 - World Ignition [v1.01]
3. Wyrmnus - 678,770,080,470 - ALL CLEAR!! - x12034 - World Ignition
ARCADE
BOOST
TYPE-I
Code:
1. Erppo - 4,282,158,240 - ALL CLEAR!! - 25:39:50 - World Ignition
2. Waah - 3,269,781,750 - ALL CLEAR!! - 20:30:00 - World Ignition [v1.03]
3. chum - 2,496,125,940 - STAGE5 - 22:51:30 - World Ignition
4. DocHauser - 1,142,358,370 - STAGE3 - 10:58:18 - World Ignition [v1.01]
5. CHI - 465,266,890 - STAGE5 - ??:??:?? - NESiCAxLive (real machine)
TYPE-II
Code:
1. DocHauser - 1,287,951,070 - STAGE4 - 11:55:18 - World Ignition [v1.01]
TYPE-III
Code:
1. gimebe - 4,052,486,780 - EX BOSS - 29:32:50 - World Ignition [v1.05]
2. Waah - 3,021,639,600 - ALL CLEAR!! - 21:11:25 - World Ignition [v1.03]
3. Zaarock - 1,882,713,810 - STAGE5 - 15:12:91 - World Ignition [v1.01]
4. hail good sir - 1,322,651,340 - STAGE4 - ??:??:?? - World Ignition [?????]
5. CStarFlare - 1,320,944,940 - STAGE4 - ??:??:?? - World Ignition [?????]
6. DocHauser - 927,753,930 - STAGE3 BOSS - ??:??:?? - World Ignition [?????]
7. zoydo - 573.137.000 - STAGE3 BOSS - 07:29:36 - World Ignition
8. ciox - 478,041,860 - STAGE3 BOSS - 04:29:80 - World Ignition [?????]
TYPE-Z
Code:
1. gimebe - 5,181,743,120 - ALL CLEAR!! - 33:45:00 - World Ignition [v1.05]
2. -S.L- - 4,131,752,870 - ALL CLEAR!! - 26:45:00 - World Ignition [v1.03]
3. Waah - 3,253,852,170 - ALL CLEAR!! - 21:45:00 - World Ignition [v1.03]
4. thetricker24 - 2.839.753.930 - ALL CLEAR!! - ??:??:?? - World Ignition
5. CRI - 2,419,378,420 - STAGE5 BOSS - 15:39:36 - World Ignition [v1.02]
6. DocHauser - 2,412,909,730 - STAGE5 BOSS - 19:18:61 - World Ignition [v1.01]
7. KAI - 2,363,186,440 - STAGE5 BOSS - 15:56:16 - World Ignition [v1.02]
8. HEX - 1,696,438,390 - STAGE5 - ??:??:?? - NESiCAxLive (real machine)
9. MAD - 1,304,756,510 - STAGE3 BOSS - 11:24:76 - World Ignition [v1.02]
10. M.Knight - 936,965,560 - STAGE3 BOSS - 11:11:50 - World Ignition
ARCADE
ORIGINAL
TYPE-I
Code:
1. iconoclast - 5,089,431,121,280 - ALL CLEAR!! - x49045 - World Ignition [v1.02]
2. x91 - 4,757,613,357,250 - ALL CLEAR!! - x47755 - World Ignition [v1.05]
3. resty - 3,785,460,822,600 - STAGE5 BOSS - x46827 - World Ignition [v1.04]
4. Jaimers - 3,146,021,754,560 - ALL CLEAR!! - x41319 - World Ignition [v1.04]
5. Bananamatic - 2,599,490,360,530 - ALL CLEAR!! - x37084 - World Ignition [v1.03]
6. Waah - 1,890,113,595,760 - ALL CLEAR!! - x32278 - World Ignition [v1.02]
7. Icarus - 1,836,109,285,590 - STAGE5 BOSS - x36519 - World Ignition
8. Mr12Inches - 851,235,681,250 - STAGE3 - x33268 - World Ignition [v1.02]
9. Battletoad - 744,212,699,880 - STAGE4 - x29170 - World Ignition [v1.06]
10. DocHauser - 519,732,976,350 - STAGE4 - x27697 - World Ignition [v1.01]
11. ciox - 295,320,226,160 - STAGE3 BOSS - x19796 - World Ignition
12. zoydo - 284.390.546.640 - STAGE3 - x19521 - World Ignition
13. CHI - 241,882,061,780 - STAGE3 - x????? - NESiCAxLive (real machine)
TYPE-II
Code:
1. x91 - 1,941,127,312,920 - STAGE5 - x34682 - World Ignition [v1.05]
2. Waah - 1,876,467,306,520 - ALL CLEAR!! - x31253 - World Ignition [v1.02]
3. DocHauser - 697,953,298,520 - STAGE4 - x28077 - World Ignition [v1.01]
TYPE-III
Code:
1. vector7 - 2,894,244,574,970 - EX BOSS2 - x40249 - World Ignition [v1.05]
2. gimebe - 1,765,357,272,910 - EX BOSS2 - x36725 - World Ignition [v1.03] (GOG)
3. Waah - 848,963,155,290 - ALL CLEAR!! - x25000 - World Ignition [v1.02]
4. Squire Grooktook - 835,070,567,990 - STAGE5 - x23166 - World Ignition [v1.01]
5. DocHauser - 482,438,103,920 - STAGE4 - x22798 - World Ignition [v1.01]
TYPE-Z
Code:
1. DKA - 5,803,127,203,620 - ALL CLEAR!! - x49831 - World Ignition [v1.05]
2. gimebe - 3,080,162,000,820 - ALL CLEAR!! - x35602 - World Ignition [v1.03] (GOG)
3. -S.L- - 2,650,416,518,840 - ALL CLEAR!! - x29081 - World Ignition [v1.03]
4. resty - 1,992,765,369,240 - STAGE5 - x31575 - World Ignition [v1.05]
5. vector7 - 1,769,539,455,200 - EX BOSS2 - x28712 - World Ignition [v1.03]
6. Nixon - 1,528,547,040,100 - ALL CLEAR!! - x25469 - World Ignition [v1.06]
7. Radyum - 1.485.908.962.200 - EX BOSS2 - x24649 - World Ignition [v1.05]
8. Mr12Inches - 1,331,245,030,500 - STAGE4 BOSS - x27221 - World Ignition [v1.05]
9. KAI - 946,771,785,460 - STAGE5 BOSS - x20805 - World Ignition [v1.02]
10. Giygas - 934,093,154,370 - EX BOSS2 - x21949 - World Ignition [v1.05]
11. Waah - 889,020,205,980 - ALL CLEAR!! - x16914 - World Ignition [v1.02]
12. DocHauser - 763,473,964,150 - STAGE5 - x21444 - World Ignition [v1.01]
ARCADE
UNLIMITED
TYPE-I
Code:
1. Satis - 9,852,407,046,370 - EX BOSS2 - x71701 - World Ignition [v1.06]
2. Bananamatic - 5,008,528,937,320 - STAGE5 - x50597 - World Ignition [v1.02]
3. Cadrin - 1,073,581,652,710 - STAGE2 - x45603 - World Ignition [v1.05]
4. DocHauser - 337,798,500,300 - STAGE2 - x31268 - World Ignition [v1.01]
TYPE-II
Code:
1. Satis - 10,499,978,373,230 - ALL CLEAR!! - x80222 - World Ignition [v1.06]
2. DocHauser - 335,749,537,180 - STAGE2 - x24211 - World Ignition [v1.01]
TYPE-III
Code:
1. Satis - 6,154,915,698,420 - STAGE5 - x61083 - World Ignition [v1.06]
2. DocHauser - 254,440,926,800 - STAGE2 - x19231 - World Ignition [v1.01]
TYPE-Z
Code:
1. Satis - 11,648,403,622,750 - ALL CLEAR!! - x60056 - World Ignition [v1.06]
2. Jaimers - 5,857,897,024,150 - ALL CLEAR!! - x51983 - World Ignition [v1.05]
3. -S.L- - 1,039,571,905,490 - STAGE2 BOSS - x33871 - World Ignition [v1.02]
4. CRI - 777,717,417,540 - STAGE2 BOSS - x27687 - World Ignition [v1.02]
5. DocHauser - 410,858,906,550 - STAGE2 - x20946 - World Ignition [v1.01]
6. M.Knight - 44,718,269,910 - STAGE1 BOSS - x13332 - World Ignition
ARCADE
TIME ATTACK
TYPE-I
Code:
1. DocHauser - 56,284,980 - ----------- - x 2488 - World Ignition [v1.01]
2. M.Knight - 33,541,230 - ----------- - x 2261 - World Ignition
TYPE-II
Code:
1. DocHauser - 54,454,300 - ----------- - x 2381 - World Ignition [v1.01]
TYPE-III
Code:
1. Mr12Inches - 82,215,570 - ----------- - x 3310 - World Ignition [v1.05]
2. tooler - 72,723,530 - ----------- - x 2899 - World Ignition [v1.01]
3. DocHauser - 65,238,190 - ----------- - x 2720 - World Ignition [v1.01]
4. BareKnuckleRoo - 51,509,530 - ----------- - x 2570 - World Ignition [v1.03] (GOG)
TYPE-Z
Code:
1. Mr12Inches - 95,244,760 - ----------- - x 3498 - World Ignition [v1.05]
2. Neptas - 88,911,750 - ----------- - x 3288 - World Ignition [v1.02]
3. deexor - 85,838,960 - ----------- - x 3281 - World Ignition [v1.01]
4. CloudyMusic - 85,388,040 - ----------- - x 3291 - World Ignition [v1.06]
5. Radyum - 78.756.110 - ----------- - x 2933 - World Ignition [v1.05]
6. CRI - 76,436,480 - ----------- - x 3155 - World Ignition [v1.06]
7. DocHauser - 76,011,920 - ----------- - x 2919 - World Ignition [v1.01]
8. zoydo - 35.349.150 - ----------- - x 2766 - World Ignition
----------
ARRANGE
BOOST
TYPE-I
Code:
TYPE-II
Code:
TYPE-III
Code:
TYPE-Z
Code:
ARRANGE
ORIGINAL
TYPE-I
Code:
TYPE-II
Code:
TYPE-III
Code:
TYPE-Z
Code:
ARRANGE
UNLIMITED
TYPE-I
Code:
TYPE-II
Code:
TYPE-III
Code:
TYPE-Z
Code:
ARRANGE
TIME ATTACK
TYPE-I
Code:
TYPE-II
Code:
TYPE-III
Code:
TYPE-Z
Code: