It's a weird game to play for score, but I did it anyway. I did it years ago on the Saturn version and remember getting 2.3 million then. The one big difference is the Saturn version allows you to fight an extra stage against the bonus character Meirin (glasses girl with the pandas). On Mame now: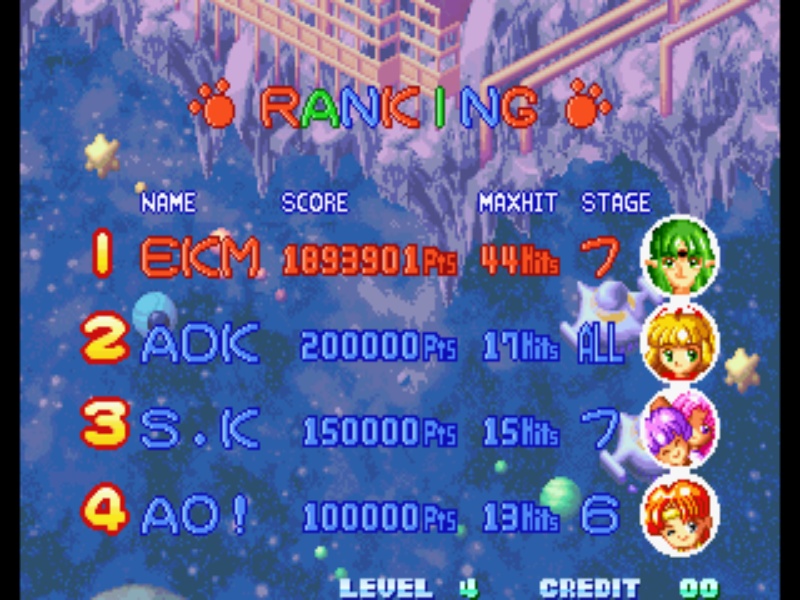 Character mode
T-hawk - 1,893,901 - Mevious - 44 Hit - 7
Stage 4 went really well, got a long string of perfects for 200k on the round and 550k starting Dark Ran. She died quickly, but then I went two super long rounds against Mevious for 300k each, both went to Death KOs. Had a total of four lives against Memory, all went decently well for 100-150k but none spectacularly and I didn't beat her. Still, that's a solid score.
Mevious does seem really good for score, he's fast, and the computer seems to dodge his extra attacks well to keep rounds going a long time. I think the best character for actually beating Memory is Nanja Monja, that extra attack occupies a lot of the screen and can actually corner her. The other attack that can hit Memory semi-reliably is Arthur Schmitt's boss, which has the instantaneous laser that the computer doesn't always know to dodge.