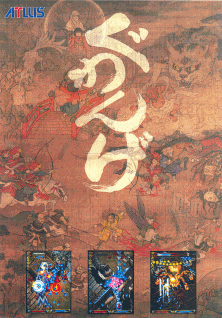 Normal damage, difficulty B (Normal). Feel free to use or not use autofire... and mention what you did, I'm curious.
Please don't play the 360 versions of Arcade and Blue. They have slightly busted scoring for no particular reason, and in a few years they're probably going to be far less accessible than just booting up MAME anyway.
----------
Post scores in this format:
Code:
VERSION - CHARACTER
NAME - SCORE - STAGE - COIN CHAIN - AUTOFIRE - DETAILS
Please indicate which MAME build and program version you used, MAME players.
__________
Arcade (Master Version)
Shishin
Code:
1. clp - 5363,4179 - ALL - 4,5467 - ??? - ShmupMAME v4.2
2. AST-NEV - 2141,9069 - 6 - 2,2052
3. mode7 - 1904,8635 - ALL - 1,5889
4. gemant - 1789,3596 - ALL - 1,3745
5. d-ku CLA - 1727,0667 - ALL - 1,7425
6. CloudyMusic - 1646,0758 - 6 - 1,4683 - ??? - MAME Plus! v0.168
7. Rob - 1494,0782 - 6 - 1,2707
8. NTSC-J - 1344,6456 - ALL - 8591
9. Noboru Wataya - 1001,3874 - 6 - 1,3974
10. Kyper - 940,1531 - 5 - 1,1531
11. CIT - 918,8833 - 5 - 1,2885
12. MrMonkeyMan - 868,7014 - 5 - 1,2875
13. zakk - 742,3437 - 5 - 1,0895
14. Galdur - 738,1111 - 5 - 1,2120
15. Gion - 661,2360 - 5 - 6285
16. Edge - 643,9318 - 5 - 1,1681
17. Trevor spencer - 632,3755 - 5 - 9223
18. javel - 625,7523 - 6 - 6210
19. winteR - 557,8457 - ALL
20. Dennis - 537,7618 - 6 - 9509
21. Necronopticous - 531,8781 - 6 - 6990
22. neocps2 - 529,0690 - 5
Kosame
Code:
1. PROMETHEUS - 4980,4980 - ALL - 4,7079
2. Aquas - 3634,2208 - ALL - 4,2425 - ??? - ShmupMAME v4.2
3. chum - 2539,5333 - ALL - 1,7906 - ??? - Shmupmame v4.0?
4. Azinth - 2409,4198 - ALL - 1,0060
5. mulletgeezer - 1769,6690 - ALL - 1,7183
6. Icarus - 1709,9785 - 6 - 1,5266
7. ArrogantBastard - 1250,5450 - ALL - 1,5042
8. Sapz - 1097,5796 - 5 - ??????
9. Casualcoder - 1075,9247 - ALL - 8392 - ??? - ShmupMAME v3.0?
10. CloudyMusic - 964,3844 - 5 - 1,2191 - ??? - MAME Plus! v0.168
11. PurpBullets - 959,6785 - ALL - 7004
12. Tvspelsfreak - 700,6013 - 5 - 1,1633
13. The Coop - 646,9759 - 6 - 7558
14. d-ku BAD - 564,5107 - 6
15. Third_strike - 319,8621 - 6
16. jonny5 - 148,0785 - 4 - 3621
Gensuke
Code:
1. clp - 4329,5578 - ALL - 4,3375 - ??? - ShmupMAME v4.2
2. Nemo - 1199,4494 - ALL - 1,2852
3. GaijinPunch - 1160,6333 - 6 - 1,0756
4. AVE - 1099,2806 - ALL - 9490 - No - PCB
5. freddiebamboo - 922,1684 - 6 - 9870
6. Randorama - 810,0322 - 6 - 9950
7. CRI - 809,6258 - 5 - 8410
8. Kai - 786,0971 - 6 - 8984 - ??? - Emulator?
9. Lashujin - 759,4462 - 5 - 1,0655
10. hmk - 525,6478 - 6 - 7664
11. Skykid - 318,1167 - 6
Blue (Special Version)
Shishin
Code:
1. clp - 7960,8454 - ALL - 6,2785 - ??? - ShmupMAME v4.2
Kosame
Code:
1. clp - 4057,2590 - 6 - 4,5973 - ??? - ShmupMAME v4.2
2. Casualcoder - 1205,7814 - ALL - 8647 - ??? - ShmupMAME v4.2
3. KAI - 1117,0036 - 6 - 1,0942 - ??? - MAME v143u9
4. Skykid - 574,1390 - 6 - ?????? - ??? - PCB
Gensuke
Code:
1. clp - 5137,5473 - ALL - 4,3458 - ??? - ShmupMAME v4.2
Arrange
Shishin
Code:
1. deexor - 1,5510,2147 - ALL - ------ - --- - 360