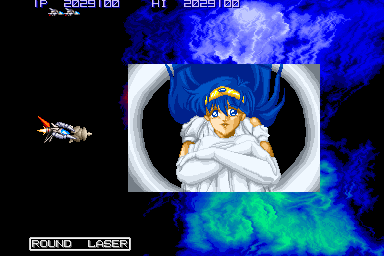 Perikles - 2,029,100 - ALL - ♂ - 子
Video
One silly death in 1-5, but no milking or leeching was done, hence the fairly low score. I also didn't look up the Zodiac sign.
Jesus Christ, the second loop in this game is
brutal
. R-Type II's second loop is notably easier for the most parts. So many (pre-/proto-)Psikyo fast bullets everywhere, it's scary. Special shout-outs to the little guys in 2-6 that shoot you through the battleships with the speed of light whilst blazing across the entire screen, those jerks are nefarious.
Completely messed up 2-7 (used the charge shot instead of throwing the Flint out with the charge, ruining my entire positioning), but somehow survived. Since I lost quite a few runs on 2-5, 2-6 and 2-7 before I'll gladly take it.
I have to say that Xexex surpasses both R-Type and X-Multiply in certain ways. Xexex mastered what I would like to baptize as "micro-aggression". Seldom do you want to let the Flint wander off too far, but it's incredibly useful both as a shield and an omnivorous weapon in short range. Tossing out the pod in an R-Type game is usually not a smart idea (with the prominent exception of Rios in R-Type II and the R13 in Delta, of course) since you lose out on your main weapon, the firepower of your bits in case you have the DNA laser equipped and the protection granted by the pod itself. Here, your ship will always maintain the firepower, making it much more self-dependent. And since the Flint is very reliable in its behaviour it allows for some creative uses, aided by the excellent stage design - it really shines in stage 3 where you want to call it from an elevated position in order to crush all the enemies, that has to be one of the most astutely designed stage in a horizontal shooter.
I was also surprised to see that checkpoint recovery in most spots of loop 2 is fairly doable despite the insane enemy bullet speed. You're usually back on your feet in less than a minute! The only Irem arcade shooter (from the ones I've played so far) that is equally lenient is X-Multiply. That is a truly impressive balance - even though most Irem 2-ALLs utterly pale in comparison to a Xexex 2-ALL recovery is still a more reliable thing in the latter.
As fun as it is to play this game, figuring out the best strategy with the Flint and then practicing tricky spots, it still only is a stale taste compared to the hilarious whining during the STGT 2010, however. All the outrage, the crying, the pouting, it fills me with a heartwarming portion of sadistic glee.