ProjectAKo wrote:
You should go for the WWR.
Well, I did manage to get first place for Sonic Wings (which, call me superstitious all you want, I still find noticeably more awkward than Aero Fighters by dint of higher rank):
Sonic Wings - Arcade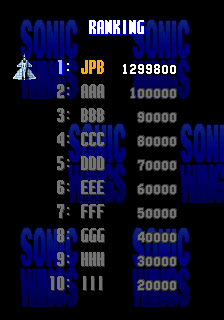 Perikles - 1,299,800 - ALL - Kohful
Video
Aero Fighters - Arcade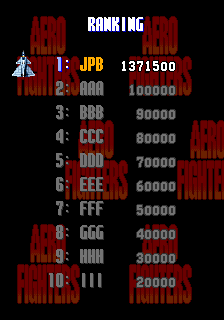 Perikles - 1,371,500 - ALL - Kohful
Sonic Wings - SFC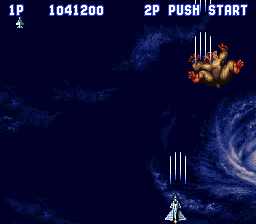 Perikles - 1,041,200 - ALL - Kohful
Very happy with my arcade Sonic Wings run, only one death on the monkey in loop 2, outside of too many bombs in 2-5 I'm extremely satisfied. Too many credits ended with some outrageous hits on the 2-6 jets or somewhere in 2-7, mostly in conjunction with some bomb not triggering because of the awful lag in this game. Never going to play either Sonic Wings or Aero Fighters arcade again.
Will play the SFC version once more, though! I played this on Snes9x with external autofire, not going to bother without it anymore. I'll try to get an autofire controller for my console and then a better score, shouldn't be too difficult provided the controller does what it's supposed to do. There are a few sections that are harder than they are in the arcade game (the Japan boss in particular), the most idiotic/aggravating parts are much easier on the other hand, and considerably more fun as well.
I was also completely wrong about Rabio, a 2-ALL with him is much harder than with Kohful. Yes, he is much more powerful than the rest of the cast, but the rank goes crazy after a while. If you don't die by 1-6 (which is essentially 1-5 since Rabio has an additional stage) the bullet speed is faster than it ever will be over the course of both loops for the other characters.