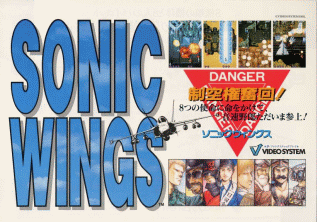 This is the cheap 'n' cheerful high score thread for the first instalment of Video Systems arcade stg quadrilogy, Sonic Wings (aka Aero Fighters).
EDIT 3:
Perikles wrote:
Every character goes to the second loop in the SFC version Sonic Wings, the US release Aero Fighters on the other hand consists of one loop regardless of the character.
EDIT 4: Rabio plays an extra stage in both the SNES and SFC versions, Rabio scores now seperated from the rest for this reason.
One credit only, all defaults etc. Be sure to state which version you're playing.
Code:
NAME - SCORE - STAGE REACHED - CHARACTER
SONIC WINGS
Code:
PCB/MAME
1] Perikles - 1,299,800 - ALL - Kohful
2] THE ALLETT - 1,236,300 - ALL - Kohful
3] KoopaTGR - 895,700 - 2-4 - Kohful
4] Despatche - 447,200 - 1-6 - Keith
5] spadgy - 374,100 - 1-6 - Kohful

Unknown revision (PS2)
1] Mero - 1,099,500 - ALL - Kohful
2] Kollision - 669,000 - 2-3 - Kohful
AERO FIGHTERS
Code:
1] Macias - 1,383,300 - ALL - Kohful
2] Perikles - 1,371,500 - ALL - Kohful
3] Baron Rojo - 1,305,100 - ALL - Kohful
4] Perikles - 1,034,300 - 2-6 - Kohful
5] KoopaTGR - 976,100 - 2-4 - Kohful
6] Vludi - 886,400 - 2-4 - Kohful
7] DocHauser - 755,500 - 2-2 - Kohful
8] Dumple - 675,600 - 2-2 - Kohful
9] Pinehed - 501,900 - 1-7 - Kohful
10] Jeneki - 462,900 - 1-7 - Kohful
11]
SUPER FAMICOM
Code:
Rabio
1] tinotormed - 1,127,000 - 2-8 - Rabio
2] Perikles - 786,300 - 2-4 - Rabio
The rest
1] Perikles - 1,144,000 - ALL - Kohful
2] Kollision - 582,700 - 2-1 - Hien
SUPER NINTENDO
Code:
Rabio
1] tinotormed - 595,100 - ALL - Rabio
The rest
1] Pegboy - 573,900 - ALL - Keith
2] andsuchisdeath - 517,400 - ALL - Keith