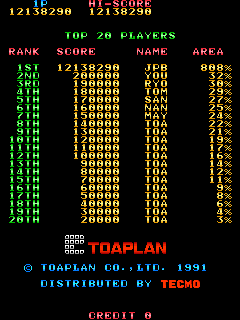 12,138,290 - Perikles - 808%
Loop 8
Would've preferred to get an advanced loop without a death, but that'll do. Killed myself after that loop, had roughly 40 lives in stock at that point.
And I didn't even intend to get a marathon run, I merely wanted to try the game out with music this time, then that happened. Oh well.
Does anyone know why the bonus value resets sometimes in the third stage for no apparent reason at all? It didn't happen in the last few loops for me, but it did occur early on. Not that it especially matters since you can just play the game longer with ease... I played the Japanese ROM set in case it matters, don't know about differences, not going to find out myself, either!