Normal Difficulty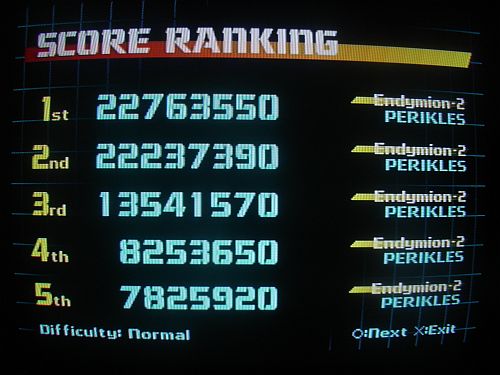 22,237,390 - Perikles - ALL - EN2 - DEFAULT/NO GUNPOD - [JPN]
Even got a video in astounding ghetto quality along with it

(Ignore the first place score in the picture above, I achieved that with non-default settings a while ago)
First score in this game I'm very content with, considering how much I struggle(d) with it! Posting the score is as much incentive to do better in the future, however, since I still made a lot of jaunty mistakes, costing lives and score. I can almost certainly say now that this is my favourite console-exclusive shooter, will invest more time with gusto.
I'm not sure whether this thread is still updated (might write Moleculoman a PM in a few days), but I'm going to offer two suggestions in any case:
1. In the name of everything that is revered, please differentiate between an ALL and a real stage 7 score!
I know the game itself will always consider it to be a "7" regardless of the outcome, but there is no reason we should follow such an odd idiosyncracy for ourselves. I was rather bemused the first time I looked at the score boards before I realized you just keep the game's nomenclature.
2. While I do think that the splits in this thread are nothing short of exemplary, I also think it might not be the worst idea to furthermore divide the various ships. I would keep one overall table and then one table for every ship, in the four flavours we have laid out here (US - Japan, Starting Gunpod, No Starting Gunpod). I understand it's a lot of effort and somewhat exalted for almost no activity whatsoever, but frankly, comparing the Selene with a regular ship or even the regular Astraea with the Endymion Mk.II is a bit questionable even if all other things are equal.