ZOM wrote:
...so I wonder what enemy/projectile/object gives just 10 points?
Asteroids do, and sometimes white orbs give 50 points.
CIT wrote:
Here's the replay:
Real smooth use of Burst placement! I've played so much missions with Origin lately that I've almost stopped using Burst at all. I'm stealing your methods of getting quick multiplier in zone A and C
And after watching the replay I must throw out my theory that Beam Counters only work when the boss is low on health. What is it you go after?
*Edit:
After over an hour of testing, I must agree with some of the theories Icarus posted two weeks ago.
First. I'm now sure there's no fixed Beam Counter bonus, but instead there's actually a Beam Counter multiplier, which turns that ordinary destruction bonus of 100k into 400k (that's x4 folks).
I came to this conclusion after Beam Countering Iron Fossil quite late, and as it stopped it's beam and started to turn around, my beam (still golden) wreacked havoc on it's scales, and my score jumped higher than what's possible according to my calculations. I've done this multiple times, so I'm sure.
Second. The Beam Counter (the golden beam) is activated by grazing the enemy beam. To far away and you get the ordinary blue beam, and to close and you get hit (I'm not sure if that always excludes the counter from happening though).
This changes almost all of my boss strategies, as you're not supposed to dismantle them before Beam Countering them, but with the actual Beam Counter. Suddenly the infinite dolphins that shoot beams during the Great Thing fight makes sense.
*Edit 2:
My new highscore on Mission 1-1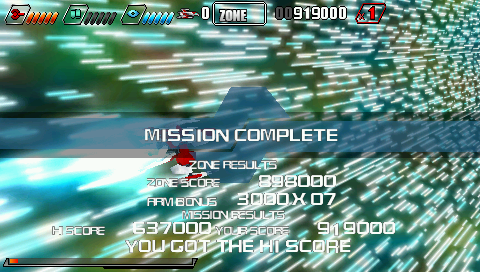 And that's just with x1 multiplier. Earlier I thought Iron Fossil max was 9mil (580k x16) but now I see that it's
at least
14mil.