Play Brave Blade. It's so good.
Yeah, sure, it's cool to ride your futuristic bike over Manhattan's streets with Cocobat Crunch blaring in the background, to bomb flamingos to Underground Resistance's tunes, to rhythmically hold and release your ship's lock-on after gigantic stylish boss kanjis flicker on the screen, or just to be told that YOU ARE GREAT even though we are all aware that you are really not. But you know what is the most fun shmup Raizing ever made?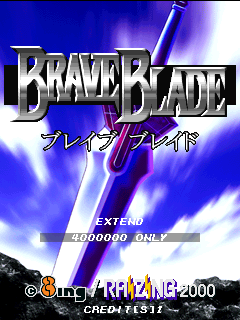 Brave Blade
In this amazing video game, you have a ship that can transform into a mecha. So cool! And said mecha has a melee weapon! You can deploy your blade and whack enemies with it! Holy shit! It goes swoosh swoosh! So damn fun.
No other Raizing shmup has made the very basic actions you can perform during the entire game so damn enjoyable to do! Just swinging the sword at enemies feels super satisfying. Most of their other games have basic looking shots, and it's usually the bombs that crank up the whoa factor. (At least Sokyu has the lock and Dimahoo has the charged attacks) But here unlike the limited bombs you can freely use your sword as much as your heart desires! So go slash those baddies!
Oh, and you can also swing your sword at the medals and juggle them! And you get so much more of them than usual! And they get bigger and bigger! Until they get to not just 10k....but 100k! And you can even get to that point in half a stage with the proper strats! And the sword swings prevent them from falling offscreen and nuking the chain! Also, boss parts give you more medals when destroyed! Ain't all that such excellent ways to make you go for them? I know I crave some 100k medals now.
To top it all, you even have a "Core" hyper mode that gives you invincibility and super speed! You can move all over the screen and grab tons of medals! The feeling of being unshackled and make your little Gundam go into Trans Am mode is such a freaking cool idea.
It's like Raizing made a Radirgy game even before Milestone was a thing. And this is why this game is easily their best.
The Guard system is also a genius way of encouraging melee without making it too punishing due to point blank hits. While the ship mode plays like a regular shmup with one-hit deaths, in mecha mode every hit that you take reduces your energy gauge instead of killing you outright, so there is some leeway. However, after too many hits your guard gets broken and you can only enjoy this protection again if you manage to recharge the gauge. Since said gauge also allows you to activate the Core mode when full, you are still nudged towards dodging everything if possible. And when you use said Core, you also have to recharge the gauge to regain the Guard protection so there is tension in getting it up to work again once the invincibility wears off.
And the main scoring system in this game? Fucking amazing. The system in this game is telling you to have fun, to slash as many enemies as possible and as quickly as possible for some bonus enemies, to get the chain to 100k and then grab as many medals as you can in order to make the score rise and rise. No weird things about having to use whatever specific shot type on completely arbitrary enemy types for arbitrary point values or JRPG-strategy-guide-tier shit like that. Just swoosh swoosh swoosh the enemies' face, use your Core at the right time to go into super pursuit mode and collect all the medals you've been juggling in the air, and enjoy yourself!
(Well, okay, there is boss milking because this is still Raizing we are talking about unfortunately, and it's not too fun, but I can get some good scores even without it)
Oh, so what about dynamic difficulty management with suicides and all that stuff where you have to keep track of completely invisible values the game never tells you? Bruhhhh, you only get one extend in this game, forget about all that stuff here, just enjoy yourself and survive! And no nonsense like "oh no I collected too many of those ultra sexy looking items that are designed not to be picked up while looking like they should be picked up so now my run is just fucked". Whenever your power is maxed there are no more power items spawning anymore, it's aaaaaall medals!
As of writing this, my own high score is
42mil against the stage 6 midboss
. (out of 7 stages) While the later boss fights appear to be complicated and overwhelming at first, learning the patterns and behaviors makes most of them very manageable actually. And with proper Core activation timings, the stages aren't too tricky too. It's so pleasant to be able to go this far in a Raizing game and have fun all the way through.
Give this game and shot and hopefully enjoy it as much as I do! If you play it, lemme remind you that the score thread is here :
viewtopic.php?f=2&t=3664
Also, a little tip : set up some rapidfire buttons for the shot and the sword, they are helpful. Holding the sword button gives you another defensive tool too so keep a non-rapid B as well.
And here's a
74mil superplay
if you need reference from someone who knows how to play the game better lol.