Imma get this out of the way first: yeah, this is my first post, I know, spam spam spam etc. But I only just found out about this forum and the game came out *today*, so... yeah. I promise to respond to questions and stuff. This isn't a drive-by!
Soooo Legacy of the Elder Star is a mouse-driven shmup with 1:1 control and unlimited movement speed.
It's fast, fluid, and specifically designed for accessibility. It's not really bullet hell; it's more about efficient offense, learning the fastest way to clear enemy patterns using the different weapon combinations at your disposal. I think we've created something very satisfying, and very different from most shmups.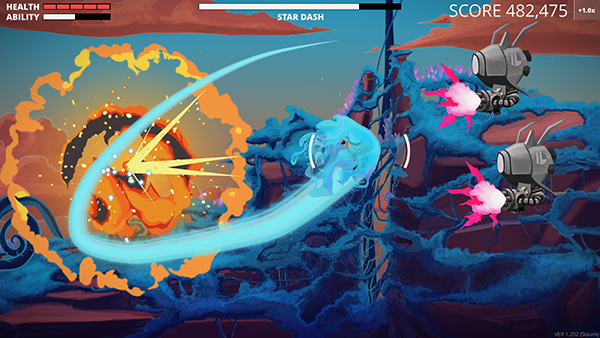 Weapons!
On your left mouse button we've got your typical rapid-fire blaster, a punchy-but-slow shotgun, and a charged shot inspired by R-Type. On your right mouse button we've got the star dash (click and drag through enemies to smash them to bits), swarm missile (tag multiple enemies with a homing missile volley), and star mines (deploy up to three then detonate them in a sustained cross pattern). There are also three special abilities which charge up over time (kinda like bombs, except you have a charge-up delay instead of a limited bomb stock); the abilities are giant-ass rocket™, giant-ass beam™, and giant-ass homing comet-thing™.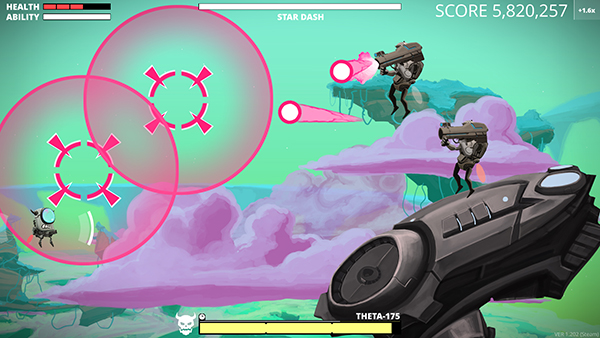 Scoring: guns grant bonus points for point-blank kills, while secondaries (those right mouse button weapons) grant bonus points for extra kills in a single-gesture or volley. Grazing bullets grants more points, and you get even more for capturing grazed bullets by killing the enemy that fired them. A score multiplier increases over time and resets when you die. Story mode (5 stages, ~22 minutes) has a tiered leaderboard based on certain score thresholds, and shows you how close you are to achieving D rank, C rank, etc. all the way up to S rank.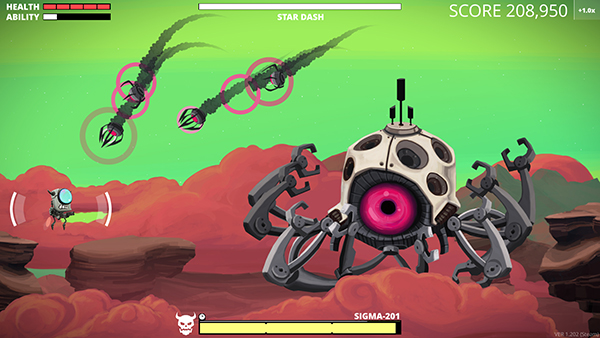 In story mode you can mix and match your weapons, and the enemy patterns change on every run. It's deliberately designed to be a bit more casual; again, this isn't about mega bullet hell or super hardcore competition, it's about accessibility and satisfying fun. There's also a practice mode (pick any stage), boss rush mode (one life only), and a randomized daily challenge. The daily picks a new stage, pattern sequence, and weapon set every 24 hours, which are the same for every player, and each daily has its own leaderboard. Dailies can be a
lot
harder than story mode.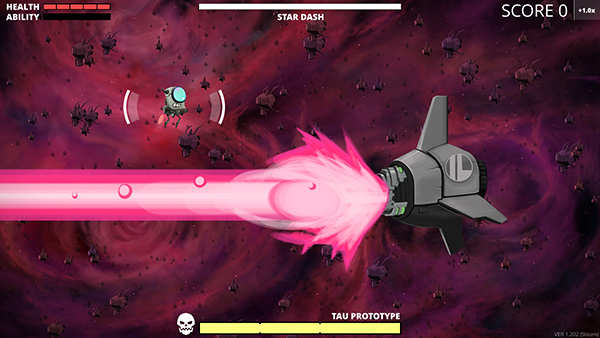 You can get it on Steam right now for PC, Mac, and Linux, and it's 10% off for the first week.
I did all the design, code, and music for the game, and hired an artist to do the art and animation. I gather there are some devs (and aspiring devs) on this forum, so if you have questions, I'll be around.