I've
smashed the compromise known as 'peace'
in Taito's earth-splittingly psychedelic classic
Metal Black
.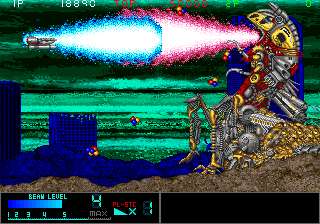 In terms of audiovisual experience, it's one-of-a-kind. Metal Black's surreal backgrounds and setpieces combined with the trippy screen-warping effects make the whole thing feel like a nightmare; the alien invaders command a sense of cosmic shock and awe as they casually defy common sense. So there is a second moon to the Earth which is merely a cocoon housing one of the game's bosses, and so the fourth boss is fused to a giant Titanic Lance-like missile as the background inexplicably changes to ???.
Metal Black's standout mechanic is its Beam system. By picking up Newalone particles (that are continuously spawned during fixed points in the game) you can increase your Beam Gauge up to 5; each level increasing the size of your shots. Press the Beam button when your Beam Gauge over 50% full, and you will release all your energy. You will fire a beam that deals massive frontal damage, or if you fired the Beam when at level MAX, you instead will fire lightning across the whole screen, destroying everything in sight as a panicbomb of sorts. The kicker here is that using the Beam always drains your shot level back to one, putting you in a tough position until you manage to recover enough Newalone. It's an interesting implementation of smartbombs where you have to consider the long-term consequences of when to use your bomb during tricky sections or to use your beam to speedkill enemies, and how to recover from it. On top of that, you can extend your Beam duration by picking up Newalone particles while it's active, or you can leave them after you're done Beaming so you can recover more quickly.
That said, these decisions rarely come up in actual gameplay. Metal Black rarely features enemies that pose a major short-term threat which are too tanky to be killed fast enough with your regular shot and should ideally be killed with your Beam (much like how Psikyo games revolve around clever special attack positioning to get rid of the tankier enemies before they cover the screen in bullets). The only enemies you really want to use your Beam against are the bosses at the end of each stage. And even if the game featured more tankier enemies, the Beam system is inherently held back by the fact that it depletes your entire Beam Gauge on use. Because you cannot control how long you use your Beam and thus how much Gauge you spend (like in Metal Black's spiritual successor, Border Down), the game is very limited in how it can test you on your Beam usage. And because your main shot is so versatile to begin with, I only ever ended up using the Beam as a panicbomb.
Another facet to the Beam system is Beam Dueling: bosses can suck up Newalone particles and fire Beams of their own. Should your and their Beam collide, a Beam Duel will begin, creating a ball of energy where you have to rapidly mash the Beam button to push this ball back at the boss for huge damage. Beam Dueling is also rarely ever worth it (the exception being when you don't have the space to avoid an enemy Beam and can only escape through a Duel). Beam Dueling doesn't deal that much extra damage to make it worth sacrificing your shot level, Beam Dueling yields no extra score, and killing a boss through a Beam Duel leaves you at a powered-down state at the start of the next stage. Even so, Beam Duels being a matter of how hard you can mash a button is made moot if you play with autofire or on a cabinet with an autofire circuit installed. Ending a fight by having to mash a button as fast as possible in a contest of might does lend it a sense of climax (see The Wonderful 101's final boss), but there isn't much depth to having to mash buttons hard to win. It also kills my wrists. Dariusburst found a good compromise by having Beam Duels be a matter of timing and positioning rather than mashing.
But the most important mechanic to Metal Black isn't Beam usage, it's utilizing the massive size of your main shot. Your projectiles are so large that they cover the space around the top and bottom front of your ship--allowing you to take out enemies directly above and below you by maneuvering dangerously close to them, and giving your main shot an offensive and defensive usage (only the rear flank of your ship is not covered by your shots). So you can destroy enemies directly above and below you by moving dangerously close to them in order to hit them with your shots (a technique henceforth referred to as 'skimming'). This allows Metal Black to be more omnidirectional with enemy attack angles, now that you have the means to deal with enemies coming from most angles. Stage 5 is the best example of this, where on top of the regular enemies coming from the front and floor and ceiling, you're constantly buggered by parasites from behind that will stick to your ship and slow you down; requiring some clever maneuvering to get them to collide with your shots instead of your precious rear.
Scoring in Metal Black primarily consists of destroying as many enemies as you can, and Newalone milking. Of milking in general I'm not a fan, especially considering bosses in Metal Black are set to time out after three minutes and are somewhat of a huge pacekiller. Ideally Newalone particles shouldn't give you any points at all.
However, the worst offender for scoreplay are the bonus stages. There are two of them, at the end of ST1 and 3, where you have to move your crosshair over an enemy to lock-on on them and watch the missiles fly. Killing all enemies as quickly as possible nets you the most points. Problem is that the enemy spawning positions and movement is highly random, as is the score you will net from these stages even after repeated play. Even for survival these start feeling like a waste of time after repeated playthroughs, given that most of your time is spent on waiting watching your missiles hit the target (which also takes a random amount of time) before you get to control your crosshair again. Metal Black would have been better off without these entirely.
...
In conclusion, Metal Black is one hell of an unique game qua presentation, but gameplay-wise things are half-baked. It has some cool ideas, but they would eventually see better use in G-Darius and Border Down. Still, the game is easy enough that you can clear it in a few days of practice.
_________________


Xyga wrote:

chum wrote:

the thing is that we actually go way back and have known each other on multiple websites, first clashing in a Naruto forum.

Liar. I've known you only from latexmachomen.com and pantysniffers.org forums.