Back in July I bought this issue of Famitsu XBOX 360 at a mom and pops bookstore on the edge of town in Komatsu, Japan. It is the August 2010 issue. It was a great read on the plane trip home, but after I read the articles that catered to my tastes, I kind of buried it away. I recently come upon it again and thought that I would translate the shooting dev interview since there may be people out there who might find it interesting. Oddly enough, one of my hobbies is translating Japanese texts (to retain my reading skills since I moved back to the US from living in Japan). I was procrastinating on this particular "project", but since I had some time off for Thanksgiving, I went to a local café with free wi-fi (I can't concentrate at home, too many distractions) and translated the 4-page interview. After about 8 refills of iced tea and an entire loaf of Sourdough bread, I finished.
Just some things I would like to say…Maruyama of G.rev doesn't talk like a normal human being. Perhaps he is a robot, but whatever he may be, translating some of his words was a great exercise of my Japanese skills. Keep in mind that translating isn't simply converting the Japanese (or any language) to English. You have to put it in a way that makes sense since a lot of Japanese words don't translate well or do not have English equivalents. Another thing to keep in mind is that Japanese interviewers are a lot less intrusive when the interviewee is not anonymous. You won't get a lot of juicy bits.
So if you are bored or interested, please read on! Thanks.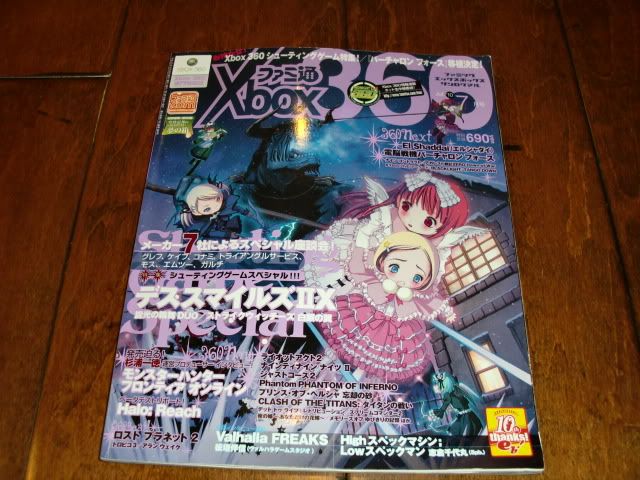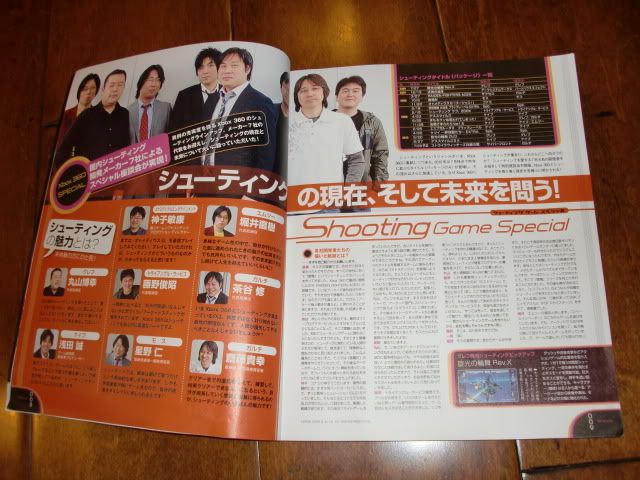 Here are the interviewees:
G.rev: Hiroyuki Maruyama (President/Founder...possibly a robot?)
Cave: Makoto Asada (Development Producer)
Konami: Toshihiro Kamiko (Tier 2 Game Content Production Director)
Triangle Service: Toshiaki Fujino (President/Founder)
Moss: Hitoshi Hoshino (Founder, Director of Development)
M2: Naoki Horii (President/Founder)
Gulti: Osamu Chatani (President, Co-Founder)
Gulti: Takayuki Saitou (Top Development Director, Co-Founder)

Famitsu 360: Tell us about yourself and your background.
Saitou (Gulti): Hello, I am Saito from Gulti. I have worked on the Raiden Series for 3 different developers. My first XBOX 360 title was Raiden Fighters Aces. I also worked on the arcade version as well. I also clean the bugs out of these titles. People always tell me about the bugs being fixed in the final version of games I worked on, and that makes me happy.
Chatani (Gulti): I am also from Gulti, my name is Chatani. I was originally a freelance programmer for Moss, and they took good care of me. That is where I met Saitou-san for the first time. It was the first time I was involved with shooting games, and it was my first opportunity to meet people who are involved with making shooting games. I learned that they are a very very ambitious, passionate people with great attention to detail. I have never seen such people before. With Moss, I was allowed to work on Raiden IV. After that I really got into making arcade style games and so therefore I started Gulti with Saito-san.
Kamiko (Konami): Hello, I am Kamiko from Konami. I once worked for a certain maker of game systems. All I did for a long time was make war simulation games. I really wanted to make war simulation games for Konami, so I applied for a job with them. From there I am flight simulation games. Then somehow I landed a gig at Konami making revivals and remakes of old games. That is how I met Horii-san from M2. From there we formed a team to make an XBOX 360 port of Otomedius. Because the M2 team absolutely loves shooting games, the chemistry was great for all people involved with this project. I think the final result was great.
Maruyama (G.rev): I am Maruyama from G.rev. I used to work for the arcade division of Taito. I worked on G.Darius, but after that there was talk that Taito would withdraw from the Arcade business. After hearing that, I left Taito to start my own company, G.rev. Starting your own company is great, but is not easy. I went to from Hoshino-san at Moss for help.
Hoshino (Moss): I remember that.
Maruyama (G.rev): Yeah, so somebody told that arcade shooting games were done (laughs). I took that to heart, though. So anyway they couldn't give me a job at Moss, but they were able to introduce me to somebody. That person gave me a job and I was able to save money and eventually I made my first game.
Fujino (Triangle Service): Hello, I am Fujino from Triangle Service. I really love games and I wanted to create games, so I went to specialty school for making games. After that, I got a job at a Konami. I wanted to make shooting games there but since that wasn't going to happen, I quit. After that I was wandering around thinking what I should do next then I found a company looking for a shooting game programmer. So, of course, I applied for this job.
Maruyama (G.rev): Whoa, that kind of job was in the wanted ads.
Fujino (Triangle Service): Yep, so anyway, I made a game called "G-Stream". Before its completion I felt the company is done and I will be out of a job (laughs). So I was laid off and thought to myself that I cannot make a shooting game. Instead of looking for a job, I just saved and borrowed money and eventually created Triangle Service. I thought that I could make games to pay back the loans.
Famitsu 360: EVERYBODY! IF YOU WANT TO MAKE GAMES, JUST START YOUR OWN COMPANY (laughs)! Then see how things turn out!
[Everybody Laughs]
Fujino: Yeah, I guess! Just go with the flow.
Hoshino (Moss): Hello, I am Hoshino of Moss. I have loved video games for a very long time. Back in high school I used to cut class to go to arcades so much that I almost reached my limit of absent days! I also love computers and I became a computer engineer. I really wanted to make games so I changed jobs and started working for Moss. Moss doesn't only make shooting games; we also make Puzzle and Medal games. Of course I wanted to make shooting games, so I worked on the Raiden series. My enthusiasm never cooled and I really wanted to make a game like ESPRaDe where a human being is the "ship", so by fate SNK Playmore asked me to work on King of Fighters Sky Stage. I was deeply moved by this.
Horii (M2): Hello, I am Horii from M2. I have played practically every game since the time of Space Invaders. I didn't want to spend 100 yen every time I wanted to play a game, so I bought a computer instead. I never put this computer down and I eventually created a game. I played games and worked on games so much that I thought, what could I do so that my parents don't scold me, and boom, I started a company. The computer I used was an X68000. That thing was great. The first step for my company was Gauntlet for the Mega Drive. Later on I worked on Salamander Portable, Twin Bee Portable, Sega Ages Fantasy Zone 2, Gradius Rebirth, and most recently, the XBOX 360 version of Mushihimesama Futari. I didn't think it (shooting games) would work on the 360, but I wanted to enjoy this project.
Asada (Cave): Hello, I am Asada from Cave. I used to work for a certain major game studio. In addition to that I worked freelance and did some work for a copyright company. I thought to myself that I really wanted to return to working on games. I was really interested in working on games for the 360 and I got a job at a small developer. They didn't let me work on games for the 360, so I decided to quit. Upon leaving the company, someone there introduced me to some people at Cave. So my career at Cave began with the XBOX360 port of Deathsmiles. My only experience with shooting games was games like Gradius and Salamander so when I first saw Deathsmiles I thought to myself: "I can't see the damn screen!" [Laughs] It was covered with projectiles. Ultimately, as I worked on the game I became to understand the method to the madness. So thus began my hellish road down that is working on shooting games. Because Deathsmiles was a success, I was pressured from the higher-ups to keep making games that would sell well [Nervous laugh].

Famitsu 360: Will shooting games ever die? What do you think of the current state of shooting games?
Hoshino (Moss): I have been told for the past 10 years that shooting games are dead. Once in a while you will see one pop up and about 5 years ago I thought shooting games were going to make a comeback. Actually at that time I only saw puzzle games like Puyo Puyo in arcades and there weren't many or any shooting games at all. Shooting games were not dead as there were many shooting game companies still in business. Probably this will happen again in the future, where it seems shooting games are dead but arcades are just mostly stocking whatever games are most popular. It's just that other genres like fighting games are probably more popular than shooting games. When I think of people who like other genres, I think there are great opportunities to try shooting games and no reason not to try them. Actually Touhou (doujin shooting game company) is quite popular nowadays. Touhou games are a great place to enter the world of shooting games. There are quite a few young employees at my company who don't play shooting games. These kids just work in the debugging department and they don't play the games they work on. They just play fighting games and nothing else, but the XBOX360 has given them the opportunity to try the latest and greatest shooting games. I really think young gamers have no reason not to try shooting games.
Chatani (Gulti): I often hear from young people that shooting games are too difficult. But actually if I let them play for a while, they become good in a short period of time. They become better than us. These remarks that shooting games are too difficult come from people who have never even played them. I think that if they play the games they will eventually become better than us.
Hoshino (Moss): Young people have great reflexes. If these young men deviate from their fighting games, their reflexes do not get better. ]
Kamiko (Konami): Shooting games are pretty sound. The amount of shooting games sold is not very high but shooting game fans have always stayed put. If there is a title they like, they will always be back to buy it and titles like it. The shooting game status quo will always be the same because they under the radar. If a side scrolling game tanks, then the genre as a whole cannot maintain its state. If a shooting game tanks, nobody knows.
Hoshino (Moss): There really are a lot of franchises out there, but if you have a franchise that had many fans a long time ago, then the game lives on by its name value. It is only those titles that will sell. There really isn't much room for an all-new title to gain ground in this niche market unless you take a different approach. When you say "shooter", you think of the typical horizontal and vertical scrolling shooting games. There are others out there, too, shooters where the ship is in the shape of a human being. Titles like Senko no Ronde and King of Fighters Sky Stage. These games take a different approach to shooting games and you can get people who normally don't play shooting games to play them.
Fujino (Triangle Service): Yeah, I saw people at the Omori Arcade who normally don't play shooting games enjoying themselves with these titles.
Hoshino (Moss): Yeah, the approach was certainly different. People who go from saying "Shooting games are too difficult, I cannot play them" to "I'll give it a shot", "I'll give it a shot, too!" are very important to the genre. That is exactly what happened to players with the said approach about changing things up. With this, the players were pulled into the world of shooting games.
Horii (M2): Yeah, those games are easier to understand. Whatever is on the screen is all you really need to know. There really isn't much to them and the rules are straightforward. It is easy to get into these games.
Fujino (Triangle Service): Yeah, I really wasn't expecting that result.
[Everyone laughs]
Horii (M2): No no! You should've said "That is exactly what I expected!" [Laughs]
Maruyama (G.rev): In a way nobody thinks it is OK to have such a narrow view when it comes to shooting games. Somehow one must have motivation to spread the genre around, try different approaches. This has yet to be introduced into the world of shooting games. Our game, Senko no Rondo, is a bit of a curveball in the shooting genre. Rather than shooting, the action is the key element. I was thinking the game shouldn't be just a scrolling type of game. From long ago games have always been about shooting something. Why is it that games have always been about shooting something? It's because it is an enjoyable feeling to shoot stuff. Everybody holds these feelings in their own way and they think of different approaches to making games. So in my case, that is how the game Senko no Rondo was formed. I was able to combine fighting game elements with shooting game elements. Each company has their own way of making games which is inflating the number of shooting games. At least this way I think the number of shooting games won't go down.
Saitou (Gulti): Yeah, it's like the game we're working on, Strike Witches, which is a shooting adventure game. Actually, it is not really an adventure game, but those elements are there. The director, Kadokawa Publishing, wanted to include full-voice acting and scenarios. The game is not simply just shooting, but the story is enjoyable as well. This is a new approach to shooting games, depending on time and occasion, the story changes and I think that is great.
Famitsu 360: What Should Be Done In The Future in the World of Shooting Games?
The genre cannot get bigger, but can only get smaller if nothing is done about.
Maruyama (G.rev): Yes, something must be done about this genre otherwise it will disappear into oblivion. I think everyone here thinks this way. Something must truly be done and it musn't be left alone.
Famitsu 360: Yes, Cave incorporates a special beginner's mode in their games so it's easier for beginners to get into shooting games.
Asada (Cave): Yeah, there was a gap that needed to be filled. We tried that with the arcade version of Deathsmiles II. Fans were NOT happy with this and they felt betrayed. So that was a big screw-up on our part, I guess [nervous laugh].
Maruyama (G.rev): Can you even say that?
Asada (Cave): So we all got together when making the XBOX 360 version and thought that perhaps we should leave that part out [laughs]. But instead we made different modes for different people so that the game would be more widely-enjoyed. We needed the game to sell well, so we had to please all sorts of players! Also, we incorporated 16:9 aspect ratio after playing Konami's Otomedius.
Horii (M2): That must've been a pain in the ass! [laughs]
Kamiko (Konami): That must've been tough!
Asada (Cave): Because our specialty is danmaku shooters, we must have many different modes. Furthermore, we must produce sales for these arcade port and systems as well. So we must evolve and adapt these games to the home system and make them look really flashy. We must please veterans without alienating the beginners, and we must please beginners without betraying the veterans. All of this must be done with strict budgets since we are only producing the game for the XBOX360, a system that not many people have. We must sell at least 50,000 copies of a game. If we don't, it is a failure. These are the hurdles we must clear.
Maruyama (G.rev): Yeah, that is a very concrete number! [laughs]
Kamiko (Konami): You must have a small budget.
Asada (Cave): Yeah, it's really terrible. I just want to give up halfway through making a game when I think we won't make it.
Kamiko (Konami): There are many types of gamers who own an XBOX360, but the majority of them are JRPG fans. We were able to sell a lot of copies of Otomedius G and when we did our research, we found out that the people who bought the game are JRPG gamers instead of shooter fans. People who would buy Otomedius G wouldn't necessarily buy a game like Deathsmiles II. We have data that supports this.
Asada (Cave): Oh, I thought they (Deathsmiles & Otomedius) sold about the same amount of copies.
Kamiko (Konami): Well, I am sure there are people who bought both titles.
Maruyama (G.Rev): With Senko no Rondo, about half of the people who bought the game are what you call "shooting fans". The other half just bought the game for its characters.
Asada (Cave): I was shocked to see that a lot of the Senko no Rondo players at the arcades are young girls.
Maruyama (G.Rev): Yeah, for some reason girls who really love Tales of Vesperia really like Senko no Rondo. I think it's because in both games, the characters are the draw of the game.
Asada (Cave): This business isn't just about making characters that stand out, unfortunately. It's not that simple. [Laughs]
Kamiko (Konami): But characters weren't always part of shooting games. For example, in the game "Xevious" you just control a generic ship. People were still captivated by that game. But things are different now. There are many things people love about shooting games. Music, for example, is one of them.
Asada (Cave): If you look at shooting game fans, there are a lot of hardcore players. In our game, Espgaluda II, the character Seseri is hugely popular. So much so that 5 or 6 fans have written novels about her and sent them to us hoping we'd read them. That is extraordinary enthusiasm for the game. We don't give the players much information, yet they are able to imagine and create with such ferocity. I really want to treasure this type of enthusiasm. It is these kinds of players that are supporting the shooting genre. At the Cave Matsuri, they really listen seriously to what we have to say. They are a bit overzealous, me thinks [Laughs].
Maruyama (G.Rev): Focusing on that, in this day and age of game development, players wanting to hear what you have to say about any information you may have about a game is invaluable, isn't it?
Asada (Cave): All of us here are over 30, that is to say we are old men. I don't think there are many interesting things old men like us can say to the fans. [Laughs] I don't think there is another genre of games other than shooting where fans really come together like they do for shooting games.
Famitsu 360: That sure is profound!
Asada continues: Somewhere there is a company that wants to develop for PS3. It worries me that this hasn't really happened yet.
Kamiko (Konami): As for the PS3, there are many circumstances as to why you don't see shooting games on the system, but furthermore nobody has even really tried it yet, right?

Famitsu 360: Why do you think so many shooting games are released for the XBOX 360? Can you speculate as to why it is so? Are there any other reasons?
Kamiko (Konami): As for G.Rev and Moss, they have a couple releases on the XBLA network
I was impressed that many people were buying these games for the XBOX360.
Maruyama (G.rev): Simply put, it's just easy to develop for the XBOX360.
Kamiko (Konami): Otomedius can be linked to the arcade version network of the game through the XBOX network (for DLC, etc). That was one of the deciding factors to release for the XBOX 360.
Maruyama (G.rev): Yeah, that was the reason Senko no Ronde was released on the XBOX 360. There was no other system with a network quite like XBL.
- Triangle Service also only releases games for XBOX 360.
Fujino (Triangle Service): At the time "Shooting Love" was released, there were no other shooting games like that for current consoles. We wanted to release the game on Wii and PS3 as well, but regrettably we decided to only release for the XBOX 360. It is just too expensive to develop for the PS3. So much so that it is impossible for us to make games for the Sony system.
Hoshino (Moss): As for the PS3, we were doing some research for developing a game for the system. As it turns out, development costs are just too high for the PS3. With the XBOX 360, you can develop with DirectX tools, which is the biggest merit of the system. Also, a shooting game will never sell a million copies in Japan. It is just not something the genre does. One big problem is that if we sell only 10,000 to 30,000 copies, it doesn't cover the costs of research of development. If we decided to continuously released games for the PS3 from the start, we simply wouldn't make it as a developer into the future. With games like Raiden IV and KOF Sky Stage which use Taito's Type X board, it is so easy to port games which use the Type X board. That was also a big deciding factor to develop for the XBOX 360. The simplicity for developing for the XBOX 360 should be anyone's reason to release games for the system; it sure is our (Triangle Service) reason.
Asada (Cave): For the development of our games on XBOX 360, we had some help from Microsoft directly. They called on us and said that if we have any problems that they would dispatch a dev team to help us. They really had our back.
Famitsu 360: Cave has released many games for the XBOX 360, and they know you guys have some pull in the shooting genre.
Asada (Cave): You got that right. To answer the question for PS3 development: is there even a market out there? Does anyone have any reason to think so?
Hoshino (Moss): Nope, nobody does. [Laughs] Until someone tries to release a real shooting game for the PS3, we cannot judge how well it will fare on the PS3.
Kamiko (Konami): Nobody really knows. Who here wants to try to release a game on PSN? [Laughs] Since there are so many titles for the XBLA, it is easy to judge how well a game will do.
Maruyama (G.rev): For the time being, XBOX 360 is enough. Anyone who would buy a shooting game for the PS3 probably already has an XBOX 360.
Hoshino (Moss): That is probably so. It is probably not economically feasible to convert code from the XBOX 360 to the PS3. It is no easy task. I agree with Maruyama-san.
Asada (Cave): I just wish Microsoft would just offer us an even cheaper way to develop for their system.
Chatani (Gulti): Yeah, us too! [Laughs]
Famitsu 360: So it seems easy to port arcade games to the XBOX 360.
Maruyama (G.rev): For us, porting to PC just takes a few days. Porting to the XBOX 360 takes about a month. If it was a 2D shooting game, it would be more difficult.
Asada (Cave): For us, when we ported Mushihimesama Futari, Horii-san from M2 created tools for us to port the game. Once our programmers saw these newly-created tools, they were ecstatic. They were eager to make the port of the game.
Horii (M2): Cave worked very hard on this game!
Asada (Cave): We want you to see what we have done with your tools
Horii (M2): Then you are welcome to come visit us anytime! [Laughs]
Asada (Cave): The tools were really great. In the original version of Deathsmiles, there were a lot of bullets on the screen. Normally we wouldn't be able to handle that on the XBOX 360, but because of Horii-san's tools, we didn't have to omit anything. This made the programmers kind of cocky because they were able to do a lot of things beyond their talents. I thought it would be to the point where they would say "Yeah, yeah, whatever, when we have time then we'll work on Deathsmiles II X" [Laughs]. But really, the programmers worked hard with the research and such and their efforts were worth it. With the new business tools in place, it was easy to make these games. It can be done in just 2 or 3 days. So our next step is to work on games for PS3, which take a lot of time.
Famitsu 360 Staff: Please just stick to the XBOX 360! [Sarcastic Laughter]
Asada (Cave): Well, right now the XBOX 360 is not selling well at all. I have been thinking a lot about this circumstance. We had a frank conversation with Microsoft. We told them that even if they sell 1,000,000 units in Japan (which they are far from), it is no great achievement. It is just normal. If they don't do better, it may not be feasible to develop for their system.
Maruyama (G.rev): That's aiming a bit too high? Haven't they finally begun to sell a lot of systems?
Famitsu 360: I agree with Asada-san. Microsoft better start selling more systems.
Chatani (Gulti): We have already prepared development for the PS3, we are just in talks with a publisher now.
Horii (M2): The PS3 is not a difficult system to develop for. We can shift our efforts to the PS3 with ease. At least that is my impression.
Maruyama (G.rev): We are also focusing our efforts onto the PS3. I don't think it will be long, now.
Famitsu 360: This conversation hurts our ears.
Maruyama (G.rev): A little off topic, but, a problem is that games are not on store shelves. Shooting games are not popular, so stores won't stock them. Instead people buy games online. How do we get People need to hold the case in their hand, look at the cover, read the back cover, and then they can think more clearly "Should I buy this game?" Rather than clicking on a category that says "Shooting game". We need the games to be on store shelves, packaging and all.
Chatani (Gulti): Yeah, the shooting section in game shops is very small. So much so that, for example, if they are stocking "Shooting Love", they'll just pile it on top of our titles! [Laughter]
Asada (Cave): Yeah, it is a real problem. Not only do we make games for an unpopular genre, we make games for an unpopular system!
Horii (M2): And that is the most charming thing about making games for the XBOX 360. The players feel the same way, we are underdogs. And that is why I do this!

Famitsu 360: What new shape will the shooting genre become? Will the shooting genre evolve from how it is now?
Asada (Cave): The biggest way the genre will evolve is to go from 2D to 3D. We did this with Deathsmiles II X. G.rev did this before us. But of course, 2D games are just as costly to make. I am going to change the subject a bit…there is an aspect that is not conveyed to the customer: online play. FPS games are known for this, more than any other genre. This must be introduced into the shooting genre. M2 and Konami did a great job with this on Otomedius G.
Horii (M2): Synchronizing was not easy at all.
Asada (Cave): For us with the first edition of Deathsmiles, the online menu alone was a difficult task. I wish the end result was more successful.
Horii (M2): What kind of thing can help the genre evolve? The way the players see it now, some games are good, others aren't. The genre is fine the way it is now.
Maruyama (G.rev): I think the genre will shift to more online-related mechanics. There is probably more room for improvement to the genre, but I think the fundamentals of the genre cannot change. 10 years from now, we'll still be playing danmaku shooters. 10 years from now we'll still be playing games like Xevious. But of course I welcome anything anyone has to offer to change the genre. If the game is old or new, the interest in the genre does not change. But as for me, I really want to offer a wider range of shooting games. We have to keep the genre the way it is, we must keep it alive. As long as we have customers buying our games, we must continue to make great games for them. The question now is should we adopt the latest technology, or should we continue to use the old ways? But even today, using the latest technology is a difficult circumstance. Is 3D really the next great thing to happen to shooting games? I don't see it that way.
Horii (M2): Because the XBOX 360 excels with its online network, I have an idea where replays from other gamers can be downloaded and on a widescreen view you can play your game while the replay plays in an adjacent window so you can compare and learn from other players. Or you can play simultaneously with another player with two different screens to see who gets the most points. There are a lot of things we can do to utilize the network.
Hoshino (Moss): Widescreen is one of the elements that are great, now. In regard to Horii-san's idea, in the past, we never had competitive play like that. We can do that over a network. We are in an era where such things have become possible. This is an era where we are trying new things (and sometimes failing) to evolve our games, and in turn, the genre. We might not get anywhere within 2 or 3 years. Where will the new type of shooting games come from? I think Touhou is paving the way for the next generation of shooting games. They can afford to make mistakes, so they take bigger risks. The shooting genre has a long, rich history and has evolved greatly, and I think we shouldn't stop it from evolving further. The genre is over 20 years old and I cannot think of it as remaining the way it is now. [Laughs] One thing we must do is attract new players to the genre. To create new opportunities for new players, we must create new ways to promote our games.
Famitsu 360: What are you plans for the future?
Famitsu 360: We hear Gulti is working on a "Strike Witches" title!
Chatani (Gulti): That is our next side-scrolling shooting game. While making "0 Day Attack on Earth" we gained experience which made this game's 3D effects fairly easy to work on. But we had to bring the characters to life, and that was when we thought we shouldn't treat it as any other side-scrolling shooter.
Famitsu 360: Speaking of characters, Deathsmiles II X just went on sale yesterday!
Asada (Cave):Yeah, it did. The game is a very character-driven shooter. Moreover, we were able to have 3D backgrounds that go well with 16:9 aspect ratio. I am really diggin' the 16:9 screen! [Laughs] At long last we accomplished it!
Famitsu 360: Are you getting any requests from gamers for a sequel to Otomedius G?
Kamiko (Konami): Sorry, I cannot tell you that.
Famitsu 360: This question is for Triangle Service. We are waiting for your next Arcade release, but what about the XBOX 360?
Fujino (Triangle Service): Well, about that…we are going to try to release it before the end of this year. As far as the XBOX 360 port, you are going to have to wait until sometime in 2011, possibly 2012. We are developing about 5 different titles, One of them has come together and is ready to go.
Famitsu 360: What about you guys at Moss?
Hoshino (Moss): We have something we are working on, but we cannot share what it is just yet. It will be released soon enough. We are just waiting for the green light from a client. For now, KOF Sky Stage will do. Have fun with that!
Famitsu 360: What about a pure port of the arcade version (of KOF SS).
Hoshino (Moss): We added an online battle mode.
Famitsu 360: Hey G.rev, you guys just released Senko No Rondo DUO, didn't you.
Maruyama (G.rev): Yeah, we worked hard! Now that the public is seeing it for the first time, we will see if all that work was worth it.
Asada (Cave): Huh? But you did location tests with that game! [Laughs]
Maruyama (G.rev): Yeah yeah, well, that was for the most die-hard fans of the game, it wasn't done in an arcade. Anyway, I think this game will sell well, but over a long span of time. Initially you will like the game and over time we will release DLC to make the experience better. We have many things planned; let's hope they will come into fruition.
Chatani (Gulti): Yeah, so when are you going to make a sequel to Mamorukun?
Maruyama (G.rev): Oh, I really want to make a sequel, but unfortunately we don't have any money! [Laughs]
Famitsu 360: Cave told us that we should be expecting some new releases soon.
Asada (Cave): It takes about 2 years to complete an entire project from start to finish. With that said, we may not release something next year. Right now we are working on Guwange and a yet-to-be-mentioned title which should be released this year. Do we have room for one more? I don't know. Maybe we are going to releases a non-shooting game, an adventure game perhaps. I really don't know (or can't say)! [Laughs]

Famitsu 360: Well, we have been chatting here for about 3 hours. I think you all want to wrap this up. Before we all go, I have one last question: What is the real charm of shooting games, and/or what hasn't the genre touched yet? I am sure this will be a fun conversation.

Asada (Cave): In the old days of the Famicom, you played a game over and over again to polish your skills and best yourself. That always left a great feeling inside. Today it is even better because not only are you competing with yourself; you are competing with the guys at the top of the online leaderboards. For me, that is the charm of shooting games today…climbing to the top of the leaderboards.
Horii (M2): For me, the charm of shooting games is its simple rules. Destroy the enemy and do not get hit by a bullet. Advancing to a level where I couldn't reach before gives me a brain-gasm and it feels really good. I can live the rest of my life living off the great feelings that come with the satisfaction of conquering a game and getting brain-gasms. I am probably the only person in the world who feels this way! [Laughs]
Hoshino (Gulti): The rules of shooting games are so primitive, but that is what makes them fun. The rules have gradually become more complicated, but the root is still there. Attack the enemy to clear the level, and if you fail, practice until you get it right. When I see a game that looks difficult, I buy it right away to try and clear it. I am thankful for the challenge of games. [Laughs]
Fujino (Triangle Service): If somebody asked me what makes shooting games interesting, I would be troubled to find an answer. What can I say, you know? If you want a true arcade experience, the XBOX 360 allows people this. You can't go wrong with the shooting library on the system. Just be sure to buy an arcade stick! By all means, get an XBOX 360 if you love shooting games.
Maruyama (G.rev): I think people who are not playing shooting games probably think shooters are way too difficult and not very accessible. There are probably many people who think this way. This might have been true a long time ago, but modern shooting games have become a lot more accessible to the novice player. Cave's "Mushihimesama Futari 1.5" is very good game for all levels of players. They were very considerate to novice players while keeping the more hardcore players satisfied. If a beginner at shooting games buys a game that is too difficult to play, I don't think that is a loss on his or her part. It is an opportunity to become good and perhaps be the best at that game. Refusing to play or buy game without trying it is the real loss. So I say this to all of you, the shooting genre welcomes you with open arms, so please come in and don't worry.
Kamiko (Konami): Please try Otomedius G's online play. The experienced players are very welcoming towards beginners and this will give beginners a good experience of the fundamentals of shooting games. They will discover that shooting games are not as difficult as people may think them to be. With someone guiding you, this is a great gateway into the shooting genre.
Chatani (Gulti): It is known that the XBOX 360 has a large shooting library. I think there is a reason other than what has already been said as to why this is so. It just happened naturally, I believe. So to all the people who keep wondering why there are so many shooting games on the XBOX 360: JUST PLAY THE GAMES. Does it really matter which system they are on?
Famitsu 360: OK, we will end this interview with you, Fujino-san.
Saito (Gulti): As technology increases with every generation of consoles, the way games are expressed are changing. If you compare shooting games to another genre, they appear to be very boring. I think this is what is plaguing the shooting genre; there are a lot of people who recognize a shooting game as an archaic genre who then dismiss shooting games quickly. You cannot see the charm of shooting games just by looking at them, you have to PLAY them. The satisfaction of practicing then clearing a challenging level is the true charm of shooting games, in my opinion. This is something not present in most modern games. So please, by all means, I want you guys out there to experience the satisfaction that only shooting games can bring!
Famitsu 360: You sure ended this interview well! [Laughs] I want to thank all of you for this interview!
Maruyama (G.rev): We have all been chatting just shy of 3 hours, but I feel only 30% will actually be printed!
[Everybody laughs]