After an extended period of shmup doldrums, I've played through several 16-bit shooters again, either in order to boost scores and/or to look at higher difficulty settings. I'll start with the MD, in alphabetical order:
Battle Mania Daiginjou
: cleared this on Hard for the first time. I honestly couldn't tell the difference between this and Normal since it's been a while since I've played this and Hard difficulty is anything but. What I can promulgate on the other hand is that I can't think of many shmups which so deftly interweave minimal challenge with almost sedulous activity. You might never be seriously threatened (unless you get stuck on the screen somewhere which will instantly result in a game over; the first game has a similar instance like this, and for the pungent discrepancy it creates with the rest of the experience, it is a truly unsettling moment when that happens), yet you're thoroughly entertained by the journey all the same. The constant shifting of screen directions, alterations in scrolling speed, variation in stage design (open design without terrain, claustrophobic shafts, a stage where you're limited to lateral movement etc.), ceaseless - if charitable - enemy spawnings, it's an aureate melange of bombastic audiovisual presentation (
Iron Casanova
being a particular standout) and illusionary craftsmanship adept in begetting excitement without difficulty. On account of having to turn around the main character and her companion so often and likewise being able to use immensely satisfying bombs periodically, you're even engaged on an executive level - where in lesser easy games, you would just hold down one button during the entire runtime. Not a title to hold one's attention for a prolonged amount of time, nevertheless a magnificent diversion.
Battle Squadron
: the polar opposite of that, really. Aside from PCE Aero Blasters, this is the hardest 1-ALL of a 16-bit shmup for me. I've never played any Amiga game, a quick glance at a video shows me, however, that the original version appears to be significantly easier. You can gain extra lives there, a lot more bombs, the visibility is decidedly less perfidious (you actually fly over the background objects instead of them obscuring up to 80% of the screen!) and the enemies are considerably less bellicose. Despite all that and other egregious mishaps such as the monstrous hitbox when it comes to collisions with other sprites, I grudgingly have to concede that there is still a certain allure here; due to the merciless difficulty and the short length, it has that "one more try!" quality to it, specially since the difficulty is moreso structural (bullet herding and a keen sense of your surroundings are more vital than sheer memorization). Having said that, I had a minor epiphany that helped me out this time around: instead of playing the entire game with the red spreadshot, I decided to use the green laser (which still covers a surprising amount of width) in the third and hardest lair. While it still almost bled me dry (had to expend countless bombs and two lives), I did manage to get through it. Fortunately, the other two lairs aren't as daunting and you can start with whatever cavern you desire, meaning you can start with the hardest one so that you know you have somewhat auspicious chances to end the credit successfully. I would definitely not recommend this game whatsoever (the insidious five-second-loop of a soundtrack is enough to dissuade anyone to attempt this), I will admit that there is an inimitable sense of satisfaction in beating such a fierce game regardless.
Crying
: the most adequate reaction after Battle Squadron. Similar to Battle Mania Daiginjou, Crying occupies a specific niche within the genre perfectly, which I'm going to baptise as organic memorizer (doubly fitting considering the theme!). Some of the stages lend themselves towards systematic routing, a combination of loose handling with the option/force, exquisitely overpowered weapons (the orange search laser has to be one of the most satisfying tools in the genre's history) and, most crucially, absence of checkpoints allows for a less methodical approach, though. Namely, I think that not being able to lock down the option in place was a judicious decision; certain boss fights would be trivial if you were able to just position it directly in front/below/at a 45° angle as the only other threats - accompanying creatures - could be dealt with minimalistic movement. As is, you have to constantly abandon spots on the screen and restabilize your grip. Normal is rather simple with vague knowledge of the game, Hard has its nasty streaks, Hardest reflects the eery music with its Psikyo-fast bullets. My strategy to hug the ground (another prudent concession of the designers; on account of this and the masterful atmosphere, Crying will always be my representation of a 16-bit R-Type Delta) against the final form of the final boss and then move back and forth to mislead its projectiles lead to several grisly deaths in a row, the fifth boss is likewise a true nightmare. Terrific game, at the very least in my top 5 of MD shmups.
Daisenpuu
: finally managed the long overdue Hard 2-ALL in this particular port, and a 3-ALL on Easy (which is quite the misleading epithet). I used to loath this conversion for its PCE Image Fight hitbox, expressly after discovering that the larger playing field in the arcade version drastically alters the entire experience (unlike, say, Kyuukyoku Tiger MD where you still retain a similar spirit). With all the routes & strategies I've devised for the arcade game, I can safely state now that my appreciation somewhat increased. It is nonetheless problematic that in order to actually enjoy the game, you need to have a hermetically tight itinerary, something that is not exigent even for some of the other tougher MD Toaplan ports. I got curious whether external autofire would make a difference, and while it doesn't matter during the stages, it is indispensable during boss fights: sit on top of the hellish boats in stage 4, for example, and with a bit of careful manoeuvering, you can take them out without them ever being able to bother you. Otherwise, higher loops would be more of a run of a gauntlet than they already are, hence my compunctionless usage thereof. I was surprised to find out that the folks over at Toaplan figured that after loop 2, your ship would be too ponderous no matter what: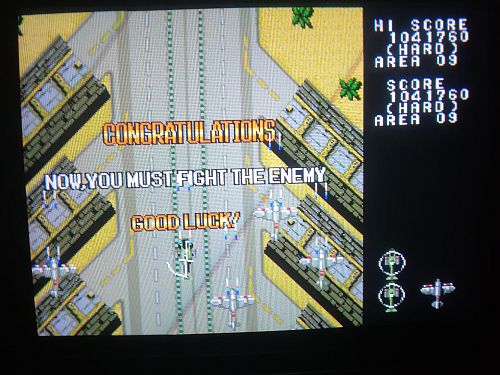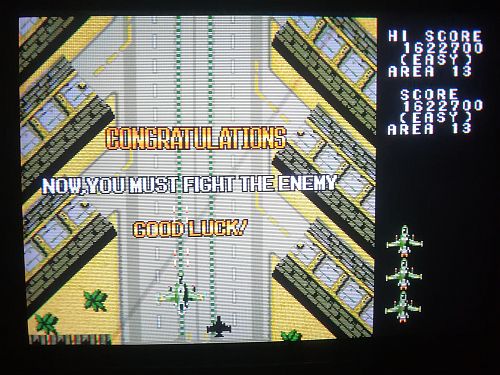 While it only seems to alter your movement speed, it completely alters the way you can approach the game. I wish they had crafted some alternative mode just for that (think Slap Fight Special), having to put up with Same! Same! Same! 1P AC bullet speed deters from the zest you might gain out of faster ships.
Dangerous Seed
: likewise surprised me with its retaining of the arcade trait to include alternative stages when you let bosses time out (which I surmised they would drop for the port as is most often the case). Scoring well only makes a difference of a few ten thousand points (out of over a million total), it's nevertheless unexpectedly exhilarating to find a chatoyant balance between milking bosses for all their worth whilst not dying in the process or letting them escape (although a few of the first bosses might not time out; milking e.g. the first boss is practically impossible in any case, mercifully). It's a shame that, due to the scintillating graphical prowess shown in their arcade games, Namco 16-bit ports tend to look a bit drab by comparison, which is exacerbated by the unorthodox presentation in several of their games (the entomological theme here, the mythological one in Phelios, Dragon Spirit/Saber...). It does provide unremitting action in the Override/Elemental Master/Battle Mania Daiginjou sense, though, and the music is
still
great
. Very much part of the backbone of 16-bit shooters with its unswerving solidity, and admirably unpretentious at that.
Darius II
: since I got the score I want out of this game already, I tried this on Very Hard and got the 1LC after a few attempts. 'twas an exemplary case of a game where the brilliance is lucidly built around the default setting, for this was fairly disappointing. The faster bullet speed is fine for the most part, the added resilience is definitely not. Some of the later enemies which were tricky to kill in time on Normal now take way too many hits, thus acting as meat walls for other foes behind them, therefore helping them to get more shots off etc. pp. As a result, you feel oftentimes underpowered and have to flee the battle instead of quickly facing enemies as you would on Normal. Stick with the default setting as it is fantastic, don't bother with this.
Divine Sealing
: figured I'd attempt to get better scores for this and the next entry as my existing ones were as nugatory as the games themselves. Underneath the infamous veneer presented in the cutscenes, this is probably the worst Star Force epigone in existence. The poor visibility alone would render this into a firmly below average game, what really takes the cake is the foible that killed enemies (or their explosion, rather) are still lethal for a second or so. With how busy later stages become, it is a veritable struggle not to fly right into one of those remnants by necessity/accident, meaning you not only lose a life, but all power-ups in the process. Technically speaking not the worst out of the unlicensed MD shooters, it's still indubitably terrible.
Earth Defense/The Earth Defend
: this one proudly takes that moniker. You sometimes earn half a dozen extends from the power-up carriers and not a single upgrade, sometimes the weapons constantly alternate so that you can never upgrade your shot, sometimes it all works out. The truly awful hit detection and jerky framerate have to be seen in action to be believed. If you die on a boss, they will literally take minutes to kill even with the Terra Cresta invincibility phoenix, got somewhat felicitous in a run and managed to get most points in all stages but the fourth, which suits me well enough.
Fire Mustang
: noteworthy combination between a more than manageable clear overall and an exceptionally aggressive rank system that will kill you after a few stages. Considering that several NMK games thematize resource management above all else, this is indeed keeping in line with the selfsame principle. I'm still not sure whether rank is merely based on survival time or if the amount of bombs in stock also influences it, although I almost suspect the latter; I desultorily would like to push for a 2-ALL one of these days which would require figuring out the best spots to gracefully lose a life in order to keep the rank at bay - hard to say just how much material one would need for the curst second loop.
Gadget Twins
: mayhaps even worse than Earth Defend, at least in certain regards. Bafflingly energetic music in a few places reminiscent of Tim Follin, I suppose. Never going to return to that one, either.
Gleylancer
: was mildly miffed here - I forgot that there were quite a handful of stretches where nothing happens whatsoever here. It's an exquisite entry shmup for its mildest form of memorization, nimiety of extends and reasonable checkpoint recoveries if a tad lengthy and sedate under closer scrutiny. It's odd that it picks up quite elegantly in pace in stage 4 and then never reaches this height again. I don't want to sound too harsh, I still greatly delectated the wonderful atmosphere, decadently holding the controller in one hand (the automatic fire function is quite congenial for that purpose!), maybe I should give Hard difficulty a go in this one.
Gynoug
: still have no definitive verdict on this one. I commend a lot of what the game does leastwise on a theoretical if not on a practical level: the techno-mythological theme, amount of bullets, overall difficulty, it's artfully done. Alas, most stages feel strained to the point of being largely filler. Furthermore, I often get the impression that I usually actually die to capricious tricks instead of being honestly overwhelmed by the frantic action (the first stage's hidden spiders being a perfect example of a veritable beginner's trap) which sours the taste somewhat. A firmly above average without a modicum of doubt, I'm convinced it could've been great with some tweaking, though.
Heavy Unit
: ostensible illustrative material for a wasted opportunity. The PCE version, while technically inferior, earnestly assays to translate the betimes frantic action to the best of its abilities, the MD port settles with the odd set-ups and one-tricky ponies from the arcade game which are the weakest part of it. If you have a game where you have to go out of your way to die to the actually exciting things yet will get crushed by cheap tricks for a handful of times only to then utterly dominate it, you got a serious problem. To compensate for the overall humble difficulty, they made checkpoint recovery close to impossible, which only adds insult to injury; it's fine in the PCE port since dying there means you took a ton of hits before your shield eventually failed, meaning that you effectively lost your "lives". But here, you'll die with a full shield if you die at all, inviting indignant frustration. It's such a shame in light of the superb sprite work.
Insector X
: similarly to MD Dangerous Seed an uncomplaining workhorse, albeit with the added advantage that it is vastly better than the frankly weak arcade original. The rank system in this game is the real star of the show, ranging from suicide bullets even from minor enemies at its peak to moderate behaviour among larger enemies upon recovery. Knowing where and when to proceed in some of the more confined sections can be frustrating with no foreknowledge, but it's a non-issue after a handful of attempts at most. Milking the fourth boss for points was fairly enjoyable even though his pattern is entirely fixed, just like that of its brethren.
Master of Weapon
: most of it is an undeniably improvement over the rebarbative arcade game - bullet visibility is much improved, the difficulty is drastically lowered, bullet wobble at least deadened and some of the most suppurating enemies are removed. This shows a clear understanding on the part of the developers, hence my bemusement why even after two speed-ups (which are randomly distributed, you might have to wait for several stages to see one if you don't draw out boss fights for them), your ship is even slower than the Vic Viper without one. Only after three speed ups does it feel like you're getting anywhere, consequentially, recoveries after a death can be even more punishing than in the incredibly brutal arcade game, which is simply a tomfoolery. It's not as though Master of Weapon has that many qualities to make up for vital flaws such as this one (not to speak of the combination of hit detection and occasionally unfair boss patterns later on) - without this issue, I'd even go so far as to call it only slightly below average, as is, it's mostly harmless garbage for as long as you don't die late in the game.
Mega SWIV
: played this and Super SWIV back to back again. One thing I always found strange about either is how disadvantaged the helicopter is compared to the jeep - not only is the heli unable to turn around, it also has to fend off innumerable airborne enemies which will placidly fly over the jeep. Only the second half of stage 4 is easier for the heli by virtue of not having to battle inertia in the water. I have a suspicion that the developers somewhat designed the core game around this particular version since you cannot jump on your own with the jeep (which is possible in Super SWIV), resulting in a few rather awkward spots which might've been intended to balance the scales in favour of the heli. Not a huge fan of the game in general (either version for that matter), the difficulty curve only impresses by dint of its unevenness (the final two stages are among the easiest, for example), boss battles are unspectacular (most of them are immobile constructions of sorts), the theme is completely generic. Neat reverberating sound effects, though.
Musha
: I always solemnly swear to genuinely love this the next time I play it, and always fail. It's a quality game by a quality developer, it's utterly outclassed by Dennin Aleste in every regard all the same - or by e.g. Sylphia when it comes to leisurely relaxing whilst watching diverse creatures garishly biting the dust. Performed the scoring trick/glitch to nearly counterstop my score (you have to be a bit careful since it just rolls over once you reach the billion mark) which took a few attempts.
Task Force Harrier EX
: underneath the grimy visuals (and not in a rarefied vein à la Fire Mustang) hides a rock-solid port that easily outshines the mediocre arcade original. I reckon the sharp, untelegraphed increase in difficulty in stage 9 comes as a distressing surprise (killed one credit of mine since I forgot just how quickly those flanking jets fire at you) and is fairly uneven, the tense dodging is nonetheless a gratifying endeavour. Love
some
of the tracks
in this conversion, too.
Thunder Force III
: finally warmed up an iota to this one. This comes with one strident caveat (aside from the recurring calamity of the Seiren midboss not spawning whatsoever, thus quenching all scoring ambitions with arrant fractiousness): the Haides stage has to be one of the most miscalculated, misplaced, maladaptive stages in the genre. Thunder Force III is by all accounts a simple, sleek game whose sole focus it is to enable the player in the quest of doling out insuppressible wrath. Why do you spoil that with a stage that needs to be studied from beginning through end by virtue of textbook cheap shots, ranging from falling (and hopping!) rocks to shifting fissures and comical lithic revolving contraptions? With the Venus stage and its various fiery traps, holding back on the screen usually is enough to avoid the worst of it, you also gain a shield halfway through the stage. Haides on the other hand is just irredeemable - once you learn it it's trivial, but if you forget even minuscule details, you're going to lose a life. I love my loop 2 Irem arcade rigour - in those games. I don't want that in a Thunder Force title.
Uzu Geobukseon
: playing this for score actually disabused me of my entirely unfavourable opinion. It's not great by any means, calling it a respectable mid-range shmup wouldn't be too far of a stretch either on the other hand. It regrettably leaves a decidedly bad impression with the pitiful starting weaponry and the cheap enemies from behind in stage 1 (easily remedied with knowledge, that, but if you have a game that doesn't offer immediately perceptible quality you're probably better off with restraining yourself until stage 3 or so with manoeuvers like this), having Darwin 4081 and Master of Weapon as aesthetical inspirations likewise won't help to alleviate doubts. Puzzling over how to squeeze more points out of bosses (infinite milking is really only theoretically possible) whilst not perishing and then having to recover from abrasive checkpoints turned out to be unexpectedly thrilling. It's weird that such an obscure game of all things has an instructive numerical display for the remaining boss health, you'd think a convenience like that would be implemented in a moreso streamlined, popular game.