Squire Grooktook wrote:
There are some who will tell you that it's okay to have wonky non-normalized diagonals. But they are fat and smelly and you shouldn't even think about it if you're not YGW.
This.
Since you're developing for Master System, and most people would probably play using a D-pad, I guess you could argue for non-normalized diagonals feeling intuitive, but the arcade joystick is the classic controller people relate to the genre, and with a controller like that, you're effectively hiding the fact that a diagonal is just two directions pressed simultaneously, and you wouldn't want diagonals to be faster than movements along the axes.
For question 2, if your spreadshot actually goes in different directions, I'd say normalize the speed of the angled shots, too. Especially if you're planning on going in a 45 degree diagonal angle. In general though, you want player shots to be so fast it's not much of an issue. Think of the classic Contra spreadshot: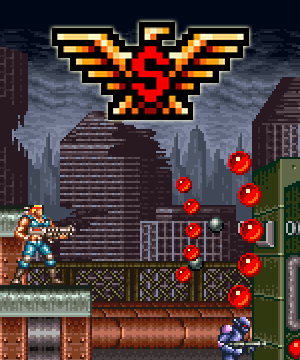 But honestly, it's not gonna throw anyone off if you do it the other way around, as the impact on gameplay is minimal, while the cosmetic difference is pretty obvious. It'll just end up being something that identifies the individual feel of each game. Here's an example of not normalizing spreadshots: