Thunder Cross 1 - MAME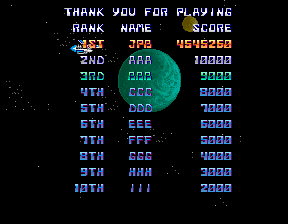 Perikles - 4,545,260 - Stage 5-3
Video
Was too stubborn to just let the matter rest. I used "thunderx" (also known as Thunder Cross (set 1)) which is completely identical to "thunderxj" aside from the title screen as lgb pointed out already. Don't know if it is a coincidence or not, but I downloaded that version once more and it worked on the first try without any freezes or game-breaking bugs. Took me quite some time to get this one smooth run, every single attempt before ended due to some glitch, almost always a freeze after defeating a boss and landing on the mother ship in the background, as early as stage 1-1 and as late as stage 3-6.
Run itself is fairly good. No deaths in the first three loops, then I start to fall apart in the fourth loop due to some of the changes, but manage to recover temporarily here and there before finally getting back to shape in 4-5/4-6. Fifth loop just murdered me, though. Most alterations are probably easy to handle with just a bit of practice (for the first boss it would probably be best to just use the twin laser - no idea why that didn't occur to me in loop 5 after horrendously getting slaughtered in loop 4), but I really want to play something else now.
I also looked into Thunder Cross II a bit - Jesus, it's been a while since I played a game with so many cheap traps and instant lasers. Not hard, yet extremely annoying. I'm also always feeling underpowered, looks like the pea shooter is the best weapon to use for the most parts. I saw a video where the player used the second player ship and obliterated the (mini-)bosses by picking up one of the temporary upgrades for the pods and just point-blanking those guys with the ship itself, looks cheesy as hell to me, probably some oversight? Don't know whether this works with player 1, but if not it would be probably a good idea to indicate which player side was used.