Mecha Ritz: Steel Rondo developer @hey1230 retweeted the release of GRAZE COUNTER LITE, which was enough to make me check it out. Well that and the polished spritework in a 240x240 frame. Notice the afterimage of the player's ship; it kicks in whenever focused movement is invoked.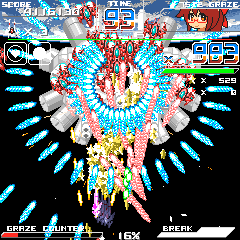 In addition to contributing to the score multiplier, grazing fills a counter attack gauge. Each counter attack in turn is used to collect gold stars to fill a break gauge. Here's a
YouTube video
from a month and a half ago, where the score multiplier is missing. The demo can be accessed from this
page
on the developer's site.
The demo is only a single level, with the full game not due until 2017. There's some balancing work yet to be done, but I think the foundation is solid.
Two things to note in the demo: 1) the default TYPE-1 ship's speed is quite slow, whereas the TYPE-2 rated at 50% faster seems more normal and 2) consider going straight to the HARDCORE MODE in the CONFIGURATION menu.
BTW, what's with the recommendation "to beginner" of the INCLUDE control option that combines "Auto Fire & Slow" into a single button?